The smartphone apps nowadays becomes a key marketing tool for all sizes companies. In fact, it may take much time, months or even years to build out an app correctly. It is the reason Mobimatic has launched to help users quickly create mobile apps.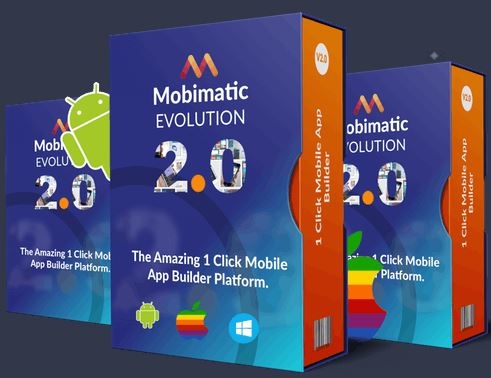 June 13, 2017 /MarketersMedia/ —
The majority of entrepreneurs are already very busy running their businesses and do not want additional stress from the time-restricting, complex process of building complicated apps. However, they have no option because mobile phone usage keeps rising. Moreover, without an app of their own, businesses will get left behind and swallowed up by the competition which no business wants.
See the demo of Mobimatic here
Mobimatic is the cloud-based software comes to helps users build high performance and stunning IOS and Android mobile apps in a few minutes.
Here is a few example of premium marketing and business apps that users can create:
• Affiliate apps: With Mobimatic, users can quickly build niche apps for affiliate programs. It works with a plethora of different affiliate and partner programs such as Amazon, JVZOO, Clickbank.
• Wordpress apps: Mobimatic can easily convert an existing WordPress sites into auto-updated, nice-looking apps and can even send automatic push notifications whenever the blogger makes a new post.
• Membership apps: Create VIP and inner circle areas on apps by turning the app into a membership system with content restrictions and user access.
• Streaming apps: Helps to build the tribe with live streaming radio station apps for users' clients. It is easy to integrate iTunes, Podcast, Soundcloud inside users' apps and also integrate with Youtube live to stream Youtube videos.
• Booking apps: With Mobimatic, users can easily integrate booking into their client's apps. The platform allows them to build forms to automate virtually any type of booking process including restaurant, car rental, appointments, venue, and table.
• Niche apps: Users can quickly assemble niche apps from the content or even PLR. Then flesh it out with live RSS feeds from their client's website, Youtube, Facebook page, Pinterest, and Flickr.
• Bar and Club Apps: The potential in these niches is almost unlimited. Integrate sharing features to grow user base and enable them to post photos in an app gallery.
A more powerful feature of Mobimatic can be found on their official site when clicking here.
Each mobile app which users build also has its unique admin Dashboard. Each app will have its own unique admin panel, enabling them to keep an eye on their overall operations with one look. From the back office, users can easily edit and update apps, send push notifications and in-app messages, manage coupons and special offers, track their user base.
It is quite easy to build landing page through 3 simple steps: build, configure and click build and download the app. Everything users need to create an excellent mobile app for any business is done with simply a drag and a drop. There is a multitude of different features that they can easily and quickly drag and drop in. Besides, every element comes with an easy-to-use adjustment panel so that users are able to configure it in any way they want. Next, make a couple of tweaks and it will be done in seconds. Finally, users should preview their app on the app previewer and as soon as they satisfy with what they see, simply click the Build button.
Mobimatic is ideal for any business including stores and retail chains, restaurants, bars and hotels, gyms, health and fitness, marketers, coaches and services, media organizations, social as well as community and religious organizations.
Making apps with Mobimatic is fast and not time-consuming. Thanks to Mobimatic users now can have the power of a Platform that delivers all the features they need to take over the mobile app business.
The concerned reader may figure out more specific information in Mobimatic Review and Demo.
Contact Info:
Name: Gerald I. Smedley
Email: support@crownreviews.com
Organization: Uzumaki & Assistants Corp.
Address: 1176 Lowndes Hill Park Road
Phone: 415-277-4030
Source URL: http://marketersmedia.com/mobimatic-helps-to-easily-build-high-performance-and-stunning-ios-android-mobile-apps/207371
For more information, please visit https://crownreviews.com
Source: MarketersMedia
Release ID: 207371