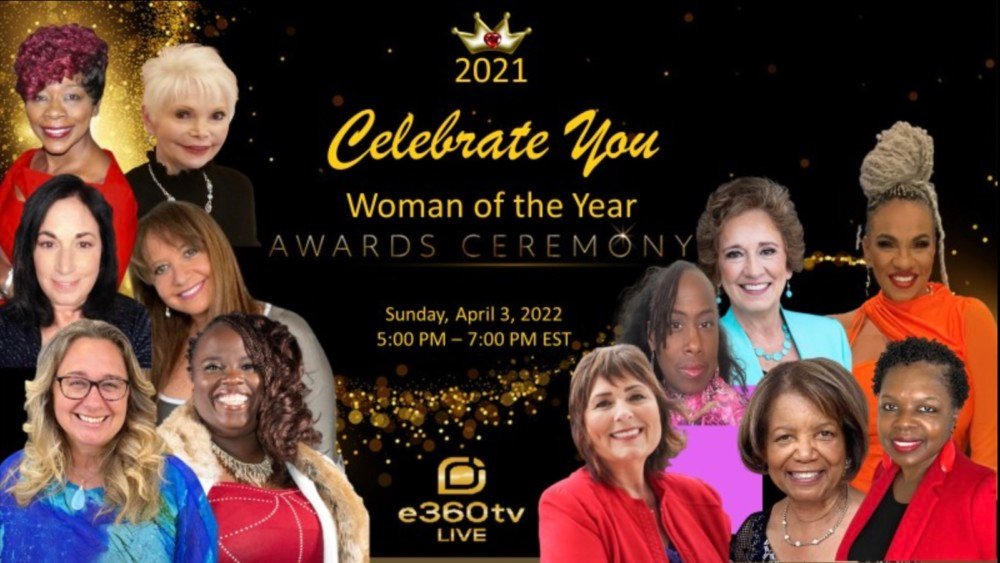 The Red Carpet Experience begins at 4:30 p.m. EDT where viewers will get to enjoy the celebration as the women arrive at the event. One nominee will be chosen as the Celebrate You Woman of the Year during this TV experience.
Video Link: https://www.youtube.com/embed/o0IY0QuE_VM
Co-Founder of Celebrate You and CEO of The Bradford Group, LaWanna Bradford explained, "In Celebrate You, we believe that when a woman is able to truly embrace and celebrate herself, she is then able to rise up and make an impact in the lives of her family, her community, the nation, and ultimately the world."
"The past two years have been one of the most challenging years of our generation," said Bradford.
"During 2021, we celebrated 12 amazing women who dared to face the changes and the challenges and strive to make a difference in the world. These women are unique in their backgrounds, experiences, and professions. However, the one thing they have in common is that they live life intentionally and on purpose. They believe in the power of co-creating a life of abundance and impact."
"These exceptional women are leaders and influencers. They always seek to find ways to encourage, inspire, uplift, and celebrate others," she said.
Barbara Beckley, Co-Founder and CEO of The Diamond Factor Experience, said,
"LaWanna and I found out that by talking about Celebrate You, it was important to reach as many women as possible with our message so that they understand the importance of celebrating themselves and others. This concept continues to resonate and we have more women joining where we now have people who are part of the Celebrate You family from over 20 countries, with our largest presence in the US, UK, Canada, Uganda, and Jamaica."
The following twelve (12) women are collectively being honored for all they did in 2021: January – Jacqueline-Young-Landi, JYL Image LifeStyle; February – Ramona Paulson, Water Color Art by Ramona; March– Mary Ellen Cignovich, R.E.A.L, Inc; April – Dr. Tamara Patzer, Blue Ocean Authority; May – Patricia Rogers, Unity in Services; June – Larcenia White, Breathing Room; July – Sammy Blindell, One Drop Movement; August, Dr. Derashay Zorn, I AM HER International; September – Sonia Jacht, Fitvibe-Wellness; October – Debra L. Morrison, Women Navigating Finances; November – Tracy Oriyomi – WealthWave; and December – Teena V. Ezell, SendOutCards.
Bradford said, "We are excited to announce that the Mistress of Ceremonies is Gloria Fleets CEO of VMPC, Inc., and music will be performed by the event's musical director and two-time Emmy-award winning bassist, Tony Saunders, and The Tony Saunders' Band.
"
It truly takes a village, and we could not do this without our three fabulous judges who volunteered their time to review numerous videos and gain a true insight into each of the nominees. Audra Agen is returning this year as a judge and will serve as the head judge. She is the founder of the international podcast Women in the Arena. Nancy Matthews joins Celebrate You Woman of the Month for September 2020 Woman of the Month and is Co-Founder of the International Women's Prosperity Network, the sister organization to Celebrate You Women Embracing Wellness. Teresa Wright Johnson is the CEO of TWJME which is a company that also works to help women expand in the entrepreneurial lane."
"In addition, we could not do this without the support of incredible sponsors: Our premier sponsors include Conversations Media Group, Essence of Being, Women in the Arena, and Freedom Travel Diva. Other sponsors are Mistie Layne, The Gem Hunter, Irene Vaksberg, Wendy Watkins, and Anchqord Hope."
"No movement is complete without a champion who helps you to remember the vision and encourages you when the road gets tough. Barbara and I are also blessed to have my parents, SGM (ret) Harlan and Bessie Bradford of Sierra Vista, AZ as our Champions. At 91 and 86, respectively, they continue to cheer us on and support us in this ever-expanding journey," said LaWanna Bradford.
The virtual celebration will be filled with tributes, spotlights, music, laughter, and a lot of fun. Everyone to "glam up from the waist up" and get ready to get your celebrate on! 
This year we will also recognize our charity of the year – Help Heal Humanity. Help Heal Humanity is an internationally registered charity mindfully designed to provide the world's most vulnerable youth with access to education, food, support, and love.
"In 2020, the world paused, and everyone focused on the caring and well-being of each other," said Bradford. "This is why we continue to support Help Heal Humanity as the small charity making a difference one young life at a time." Learn more about their service at (insert the customed donation link – I'll provide this)
About Celebrate You Wellness
Celebrate You was founded by visionary LaWanna Bradford with co-founder Barbara Beckley remaining from the original four.
"Our Celebrate You Women Embracing Wellness movement is designed for women to truly celebrate their lives spiritually, emotionally, mentally, physically, and financially and to reach for the highest and best version of themselves," said LaWanna Bradford.
"It is about standing in your truth and being able to love yourself, embrace yourself, and always celebrate you!"