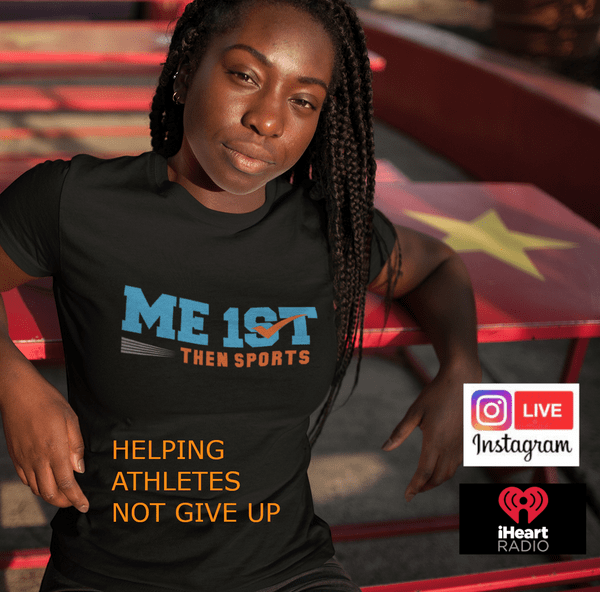 The Black People Forward project (BPF) and Life After Ball (LAB) will be interviewing athletes about the importance of prioritizing their mental health in honor of April's National Student Athlete month. The "Me 1st, Then Sports" interview series will allow elite and professional athletes to provide advice and encouragement to student athletes. Interviews will take place on Instagram live and on the iHeart radio show, Business Innovators Radio.
Athletes of all ages are under pressure in many areas. In recent months, high-profile athletes, actresses, political figures, musicians and other influencers have shared stories creating awareness and advocacy for mental health. Olympic, and professional athletes such as Naomi Osaka, Sha'Carri Richardson, Kevin Love, DeMar DeRozan, Serena Williams, Simone Biles, Michael Phelps, Noah Lyles, Simone Manuel, Raven Saunders, Lane Johnson, Brandon Marshall and several NFL players – Dax Prescott, Solomon Thomas, DeMario Davis, D.J. Chark, Adam Thielen have all spoken up about the importance of athletes caring for their mental health.
"I prioritize my well-being above everything, and mental health is equally as important to me as the physical (if not more)," Naomi Osaka said. "As much like I work with a coach on my forehands and backhands, I work with an expert therapist."
Black athletes face unique challenges. "Black athletes deal with greater life pressures, stigma and today, told to shut up and play. These stressors along with low self-esteem, racism and an unknowing in their identity has caused anxiety, depression and can lead to suicidal thoughts. High school and youth athletes need more support, " Lisa C. Williams, founder of the Black People Forward Project said.
Up to 35% of elite athletes suffer from mental health related issues. 30% of women and 25% of men who are student-athletes report having anxiety, and only 10% of all college athletes with known mental health conditions seek care from a mental health professional. 78% of racial and ethnic minority student athletes reported some form of mental health related issues. These alarming statistics can be seen in the increasing number of student athletes citing mental health reasons for stepping away or quitting their sport, sometimes at the top of their game.
Twenty-five-year-old tennis player Ash Barty retired in March 2022 while ranked as the No. 1 player in the world, saying she no longer had the "emotional drive" to compete at the top levels.
On March 10, Ohio State football player Harry Miller announced that he was retiring from football, citing mental health reasons. Miller is a straight-A student and likely class valedictorian who helped lead his team to the Georgia 5 state semi-finals his senior season.
The "Me 1st, Then Sports" campaign will also include interviews with college athletes who started black student-athlete alliances on their campuses in 2020 – standing up for social justice. The Black People Forward Project and Life After Ball are excited to provide Black student athletes with the opportunity to gain valuable experiences interviewing pro athletes as part of this innovative program.
"Sometimes it's the least likely person you expect to be struggling with their headspace," Williams added. The "Me 1st, Then Sports" campaign seeks to provide short interviews to help athletes not give up.
Check out Black Athlete Life and The Life After Ball on Instagram at:
https://instagram.com/blackathletelife
https://instagram.com/thelifeafterball
For more information, or to be considered to be interviewed, email: blackpeopleforwardproject@gmail.com. Donations can be made to: https://bit.ly/bpfdonate.
Contributions to the Black People Forward Project are tax-deductible. The Black People Forward Project is fiscally sponsored by (F.L.O.S.S.) tax identification number is 47-3451951.
About The Black People Forward Project
The Black People Forward Project changes lives nationwide one dinner at a time by improving self-esteem in under-resourced youth. The mission is to positively impact the wellbeing, wellness and wealth of black student-athletes, young black creatives and entrepreneurs. The goal is to become the premier mentoring and mental health experience for Black youth and young adults. Through partnerships with professional sports teams and Black professionals in Sports + Entertainment + Entrepreneurship, The Black People Forward Project will rebirth a positive racial identity in black youth. The project's focus is to tackle unaddressed trauma, strengthen black youth's identity and expose them to different ways to earn a living (get the bag) so they can achieve better outcomes as adults.
About Life After Ball
LAB is a nonprofit 501 (c)3 organization that is designed to provide life skills programs for student athletes to help them succeed in life outside of sports through mentorships, education, and community outreach. LAB was designed to help empower athletes to maximize their education and employment opportunities and helps them stride confidently into a dual or post-sports career. It supports athletes at all stages of their career, helping them discover their potential and plan for their life beyond the world of competitive sport through our Core C's – Connection, Community, Careers, and Counseling.