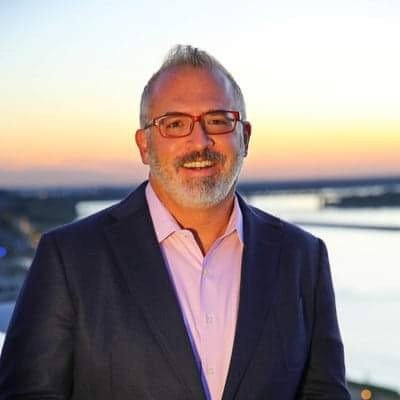 Dr. Brian G. Brown, a medical doctor based in Tennessee, United States, is a functional & integrated practitioner, author, and international speaker and helps clients all over the world who have one goal in common – they want to optimize their physical and mental health so they feel good, achieve their ambitions and create a legacy.
Originally trained in Psychiatry, Dr Brian retrained in functional medicine when he couldn't find answers to his own chronic, debilitating medical issues. His story of recovering is remarkable. Having suffered with night terrors all his life, at age 45 he suddenly had a night terror during the daytime, whilst driving on the freeway, almost wrecking his car. 
Shocked and worried, he immediately drove to see a cardiologist colleague where he was extensively monitored, and it finally revealed an astonishing oversight from his childhood that was causing his immense problems. At age 5 he had been electrocuted, and at the time was treated for burns and sent home. He then started having night terrors. Not realizing the two events were linked, he suffered for 40 years until cardiac monitoring revealed his heart was stopping several times a night – in total around 14,600 times in his lifetime – which nearly ruined his health. 
Thankfully a pacemaker fixed his heart condition, but he was still left with the physical and mental effects of decades of chronic stress to his body. Overweight, fatigued and on multiple antidepressants; the healthy lifestyle advice he was advised to adopt simply didn't work. Frustrated yet determined, he went on a healing quest, retrained in functional medicine and that's when he discovered healing starts at the genetic level, not the symptom level, which makes sense as genetics are the foundation for life. 
Dr. Brian's key discovery was to look at his genes first to see where his issues lay. He specifically used the science of epigenetics – which in simple terms shows how each person's genetics are affected by their environment and crucially which factors can create positive or negative changes in wellbeing. Using epigenetic assessments and different treatments Dr. Brian healed himself, and encouraged by his results, hired a research scientist and spent the next 2 years developing his now proven Genesis Zone MethodTM which has a genetics-first approach to health. 
Dr. Brian explains, "We've used genetics in medicine for 20 years now. In the last 2 years my Genesis Zone Method has helped over 100 clients take ownership of their wellness journey. I've helped people who are fed up with feeling unwell and being brushed off by doctors, right through to biohackers who want to optimize their health based on their own personalized genetic profile.  Following general health advice doesn't always equate to being healthy. What's healthy for one person may cause a problem for another and it can't be seen unless epigenetics are assessed. A good example is 'eating clean and green'; doing this and having epigenetic deficiencies may mean a person could be skyrocketing inflammation and hampering detoxification."
With the Genesis Zone Advantage Method, Dr. Brian uses unparalleled technology through epigenetic profiling to create targeted and bespoke health & wellness optimization plans. These plans ensure that people return to 110% functionality as quickly and efficiently as possible. Most clients experience this level of improvement within days. The majority of Dr. Brian's clients have never heard of epigenetics but are curious high achievers who tried many different ways to improve their wellbeing and want to feel better faster, or they are into healthy lifestyles and biohacking and love getting personalized insights to help them optimize their results without all the guesswork. 
For a limited time Dr. Brian is offering free access to his popular 5 day Bootcamp Program which explains how genes affect peak performance and how they can be coerced into working optimally. There's an in-depth explanation of the Genesis Code Methodology and the 5-Zones of OptimizationTM that make up physical, emotional, and mental wellbeing. Anyone who joins will be able to self-identify which zone(s) are interfering with their peak performance that they may not even be aware of and his clients are raving about their results. 
"Running a business and raising four kids leaves little room for being sidelined by illness… Since my wife and I have been clients of Dr. Brown, we've seen an increase in energy, productivity, self-awareness and knowledge of what it's like to be "hitting on all cylinders".  Our children notice a difference, our clients notice a difference, and our business growth has been exponential.  That's an investment that will produce dividends in multiple areas of our lives for years to come." Mr & Mrs W, Entrepreneurs.
To gain free access to the program, please go to https://drbriangbrown.com/genehack/bootcamp
To learn more about the Genesis Zone Method go to https://www.drbriangbrown.com and follow Dr. Brian's popular Genesis Zone Show Podcast https://drbriangbrown.com/show-podcast