Graviton Web3 Accelerator's digitally simulcast Demo Day event saw participation from VCs and angels around the world, focused on a cumulative raise of $10Mn for their first cohort. 
Bengaluru, India, July 27, 2023, ZEX PR WIRE, Graviton, a web3-focused accelerator for emerging markets backed by global VCs such as Hashkey Capital, Moonrock Capital, NGC Ventures, 369 Capital, Ascensive Assets, Stacker Ventures, MH Ventures, G1 Ventures, Infinity Ventures Crypto (IVC), and GravityX Capital, recently organized its first-ever digitally simulcast Demo Day.
The event saw participation from over 70 global investors from 16 countries, with all eyes converging on what the six teams at Graviton are busy building and scaling. These teams have emerged as outliers from a pool of 300+ startups that had applied to get accelerated through the Graviton ecosystem.
Graviton's uniquely designed accelerator program arms a limited cohort of promising early-stage web3 founders with a healthy infusion of institutional capital (marked by a seed investment into each team), technical grants and integrations from a vast partner ecosystem, mentorship from proven industry experts to help the teams with business strategy, tech fundamentals, growth marketing, and fundraising, as well as expanded networking opportunities to help them raise serious capital in the long run. 
"While the ongoing 'bear market' sentiment fosters a conservative investment mindset around the world for crypto platforms, we at Graviton believe that world-class technology products led by visionary founders are always ahead of the curve, and always lucrative to serious investors", remarked Arpit Nik (Founder & CEO at Graviton and a General Partner at GravityX Capital). Arpit and team have been hard at work since December last year, to identify India's strongest founders with a penchant to build for the decentralized web.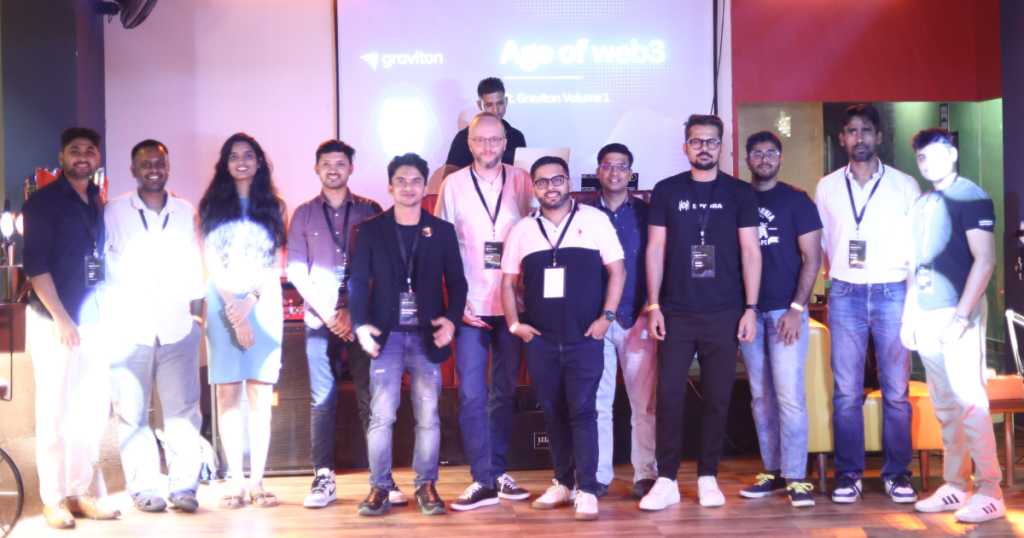 The six teams that emerged frontrunners amidst a plethora of applicants, include:
Spydra – An enterprise grade blockchain solution that is helping large organizations migrate their existing tech stack from web2 to web3, making the transition as frictionless as possible. Led by the seasoned and suave Manish Tewari (with massive previous exits at Koovs.com and Pokkt), Spydra is powering the largest status-quo migration in enterprise tech, since the advent of AWS and cloud-computing. They're already clocking an annual run rate of $100K in revenue, servicing clients such as Raymond, Myntra, and the National Payments Corporation of India. 
Wall – This team is solving one of the most significant challenges of web3, i.e. community building. Wall helps businesses acquire and take community members through beautifully mapped custom user journeys, helping them claim rewards (such as Airdrop tokens), while completing platform-mandated tasks across multiple touch points (such as Twitter, Telegram, Discord, etc). It offsets the community moderation costs for emerging web3 platforms, and after helping 40+ projects design custom reward pathways, Wall is fast emerging as the go-to community building solution for L1 and L2 ecosystems.  Wall is helmed by Anuj Kumar Kodam (ex IIT Kharagpur, IIM Calcutta, and formerly part of the founder's office at Ola Cabs). 
Strive – Global opinion on the utility of NFTs is divided, and Strive is here to change that. With a proprietary layer that facilitates the sharing and trading of NFT utilities, the team is expanding the possibilities of what one can do with NFTs today. Using Strive, any business, brand, or artist-led community can monetize their audience and influence with ease. Kartik Mehrotra (ex UC Berkeley) leads the show at Strive Network. 
Zoth – Crypto users of today are struggling to find secure and passive income generating opportunities, despite the total value of crypto finance having breached $1Trillion as of 2022. Pritam Dutta (ex Ab-InBev, Mahindra & Mahindra) and team Zoth are on a mission to democratize global access to affordable capital, through the tokenization of real world assets. They've already deployed $500K in capital, and have a little under $10M in their managed assets pipeline. 
Fetcch – The motto and creed at Fetcch is to make web3 payments as simple as Venmo or Paypal. Mandar Ray, CEO at Fetcch, explains that they're building an abstracted middleware layer that removes the complexities associated with wallet addresses, which in turn is a giant leap towards the mainstream adoption of web3. Recently, the team has opened up beta access to Fetcch Pay, their flagship payments product. 
GG Nation – eSports is booming, and team GG Nation has done a stellar job of capturing the mindshare of student gamers across 250+ Indian colleges in 18 cities. Today, GGNation has more than 200,000 gamers on its roster, with an aim to onboard India's first million gamers. Abhinandan, the founder and CEO, has a remarkable track record with two of India's biggest sports IPs, Indian Racing League and Premier Futsal, achieving impressive media value, viewership, and live attendance.
Over the last 16 weeks, these teams have been immersed in interactive workshops with a team of 50+ remarkable mentors – all of whom are established thought leaders in their respective domains. And in exchange for their time and imparted wisdom, Graviton has created a circular rewards model, with each mentor acquiring nominal equity in these teams, proportionate to the time they spend nurturing each product. Arjun Kalsy (ex-Growth lead at Polygon), for instance, has a vested interest in the success of each of these six teams, as one of their growth mentors. The same is true for Parth Chaturvedi of Coinswitch Ventures, Vijay Pravin of bitsCrunch, and many others who have become an integral part of the growth journeys of all 6 teams.
The success of Graviton's Demo Day is owed largely to the efforts of Program Director Jeffrey Broer, who is a seasoned web3 investor at Mulana Capital, and a highly sought-after blockchain mentor and speaker. 
"Supporting visionary entrepreneurs on their transformative journeys in the web3 realm brings me immense joy. I extend my heartfelt gratitude to the nurturing Graviton ecosystem for promoting an inclusive culture of progress. May the six teams embark on a remarkable path of growth and achievement!"
– Vijay Pravin (CEO, bitsCrunch & Growth Mentor at Graviton)
"All hands aboard is the philosophy that drives us to help startups and founders. We're glad that this team of web3 disruptors came together at Graviton, and forever indebted to our invaluable mentors, who have helped craft this journey together. With everyone's hearts set on building sustainably for the decentralized internet, we're just really excited about what the future holds for the Indian web3 space"
– Vishal Sanap (Head of Portfolio Growth & Development at Graviton)