Singapore - April 5, 2021 - Stock Shark release their new feature, "Blazing Stocks" which alerts investors of the most trending stocks. Blazing stocks detected the GameStop short squeeze 1 week before shares raised by almost 1000%.
GameStop Corp. (NYSE:GME) a retailer for video game software, hardware and accessories, had its shares shorted by 140%, users from reddit got together to perform a short squeeze.
Stock Shark's proprietary technology, 'Blazing Stocks' detect trends and social media posts, which accurately predicted GameStop's squeeze.
'Blazing Stocks' is based on a unique natural language model, that constantly analyzes social media, major publications, financial news sources and countless other places to identify stocks that are about to do very well. Blazing Stocks identified the GameStop short squeeze 1 week before shares raised by 1000%.
Stock Shark identifies potential game-changing stocks before they move, pointing to good short- term trading opportunities or a long-term stock pick.
'People love to discuss stocks and you can use that to improve your investing game,' said Aaron Isaac, founder of Stock Shark. 'By tracking and analyzing stocks around the clock, we are able to identify opportunity much like a shark hunting for its prey.
'Stock Shark is a service that monitors for 10,000 equities worldwide and will tell you when a stock has become popular. It uses machine learning to do this, and will alert you when you need to pay attention. Stock Shark is an ultraprecise news, sentiment and social intelligence platform service that scans various web data sources, analyzes them using their proprietary algorithms, and visualizes the result for the investor in the form of easy-to-understand charts and tables.
Stock Shark can also alert subscribers to changes with a tailored e-mail containing both hot and cold stock trades on demand.
'Stock Shark will revolutionize the way that investors get information about the market and any short squeeze potential, especially for the new investor', says Aaron Isaac, founder of StockShark.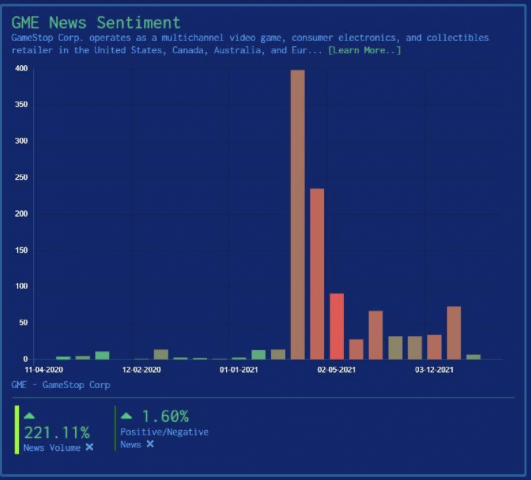 Website: https://stock-shark.com/
Contact Stock Shark at: contact@Stock-shark.com
Media Contact
Company Name: StockShark
Contact Person: Aaron Isaac
Email: Send Email
State: Geylang East
Country: Singapore
Website: https://stock-shark.com/trending-stocks