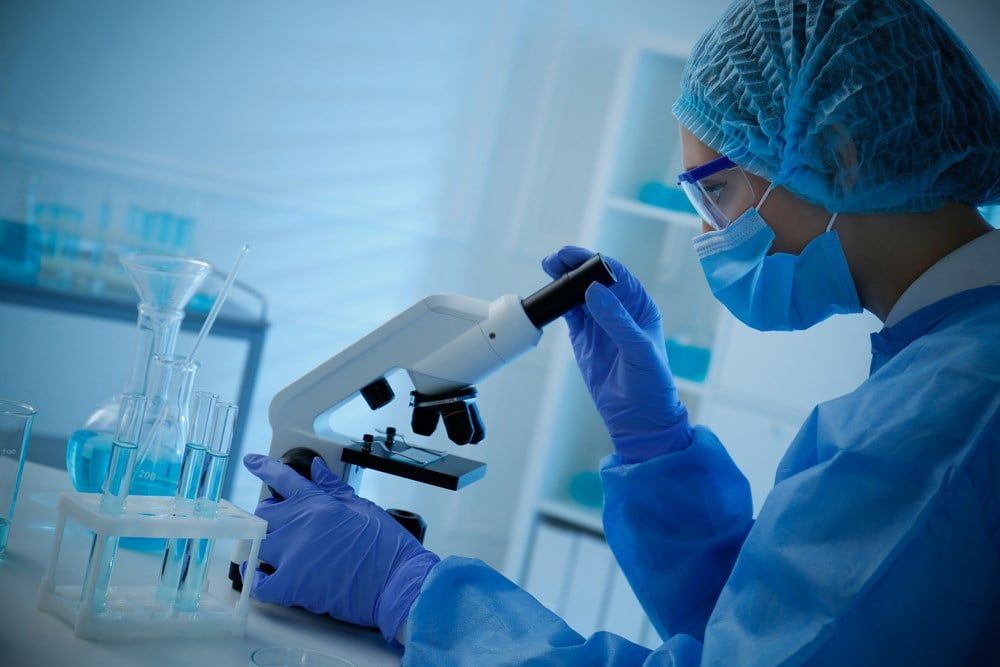 On May 15th, mid-cap biotechnology company Sarepta Therapeutics was the big winner in an otherwise quiet day for the Russell 1000 Index. Sarepta jumped more than 30% after an FDA advisory panel narrowly recommended approval for the company's gene therapy for Duchenne Muscular Dystrophy (DMD).
It was the latest example of volatility in a biotech industry that has been one of 2023's better performing groups. Granted, Pfizer's proposed $43 billion takeover of cancer therapy specialist Seagen is a big part of the group's year-to-date performance. But favorable clinical trial updates at companies like Cerera and Exelixis have also made strong contributions. 
Of course, biotech's unpredictable nature can work against investors as well. Disappointing headlines from Moderna and United Therapeutics, for instance, have dragged those stocks lower.  
Yes, biotech is living up to its reputation as high risk, high reward.
It's no surprise then that many of the stocks Wall Street thinks can double (or better) over the next 12 months are biotechs. The problem for some investors though is that most are ultra-high risk penny stocks and micro caps that can be likened to lottery tickets.
There are, however, a couple of exceptions. These two mid-cap biotech companies are relatively established in their fields — but according to analysts, they still have significant upside. Are they the next Sarepta?
Why Is the Street Bullish on Denali Therapeutics? 
Denali Therapeutics, Inc. (NASDAQ: DNLI) is a developer of a range of therapies designed to treat neurodegenerative diseases. Its portfolio includes seven drug candidates that are in the clinical phase and an additional 12 that have yet to reach the clinical stage. Its most advanced candidates are targeting Hunter syndrome, Parkinson's disease and ALS, the latter two of which are being co-developed with Biogen and Sanofi respectively.
Although Denali has yet to commercialize a product, analysts are encouraged by its progress and collaborations with major biopharmaceutical players. An investigational therapy for Alzheimer's disease that is undergoing a Phase 1 study in the Netherlands is likely to garner a lot of attention following this month's breakthrough results from Eli Lilly's donanemab. After a phase 3 study of early Alzheimer's patients showed strong improvement in cognitive and functional decline, Lilly appears to have an inside track to FDA approval. However, given the increasing global prevalence of the disease and Denali's unique blood brain barrier (BBB) engineering, multiple treatments could be coming to the market.
Following Denali's first-quarter update, Wall Street maintained its largely bullish stance on the mid-cap name. Six out of seven analysts have called it a buy since May 8th. And as is often the case with biotechs, price targets are all over the map. The average target of $60 points to a potential double but some firms, including Goldman Sachs ($81 target) and H.C. Wainwright ($105 target), see Denali heading much higher.
Why Are Analysts Excited About Ultragenyx Pharmaceutical?
Ultragenyx Pharmaceutical, Inc. (NASDAQ: RARE) has a pair of FDA-approved drugs. Its main revenue driver is Crysvita, a treatment for hypophosphatemia (low phosphate levels in the blood) and tumor-induced osteomalacia (bone softness). The company's second commercialized drug, Dojolvi, treats fatty acid oxidation disorders — a series of metabolic disorders caused by missing or defective enzymes that break down fats. 
Earlier this month, Ultragenyx reported that first-quarter revenue grew 26%, led by 28% growth in Crysvita sales. The $100.5 million figure fell short of the consensus forecast, as did profits, but this didn't discourage the Street. Since the May 4th report, seven analysts have reiterated buy ratings on the stock compared to one hold. 
The upbeat sentiment is based on several factors: 1) revenue growth was still solid, 2) management struck a positive tone around a recently completed Phase 2 study of UX143 for osteogenesis imperfecta, noting a plan to move on to Phase 3, and 3) an early phase study of GTX-102 for a nervous system disorder called Angelman syndrome is said to be "making rapid progress." 
With these and other clinical data releases anticipated over the next 12 months, Citigroup placed a "Positive Catalyst Watch" on Ultragenyx on May 5th. The firm gave the stock a $130 price target (as did Piper Sandler), which implies 175% upside. With others offering less ambitious targets, however, the average price target is around $95. This still points to a potential double over the next 12 months, which puts Ultragenyx in a 'rare' company among mid-cap biotechs.