--News Direct--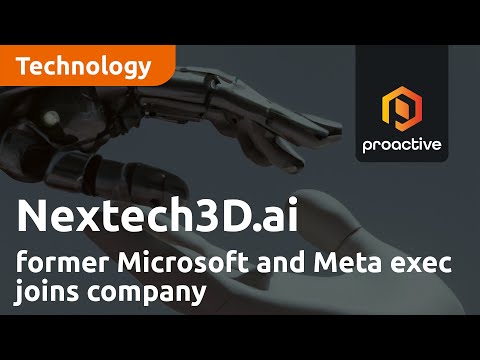 Nextech3D.AI (CSE:NTAR, OTCQX:NEXCF) CEO Evan Gappelberg joined Steve Darling from Proactive to share news the company has added another key team member to its roster with the hiring of Hareesh Achi as its new Head of Product Operations. Gappelberg told Proactive Achi will be responsible for optimizing and streamlining operations across the company, with a focus on leveraging powerful AI technologies to enhance efficiency and drive overall performance and profitability.
Achi shared his experience having worked at renowned tech giants Microsoft and Meta. Notably, he served as the leader of Meta's Reality Labs product data operations, where he oversaw the expansion of scaled operations for Meta's Reality Labs product portfolio. Before that, Achi played a pivotal role at Microsoft, overseeing the multi-billion-dollar Bing Ads operations.
His extensive background and experience in operations, particularly within major tech companies, position him well to drive operational excellence at Nexttech3D.ai. Interestingly, Achi has prior experience with Nexttech3D.ai, having briefly worked with the company during the COVID period. His return to Nextech3D.ai reflects the company's commitment to assembling a top-tier team of experts in AI and technology.
Hareesh Achi's appointment as Head of Product Operations underscores Nextech3D.ai's dedication to achieving operational efficiency and advancing its AI-driven solutions. With his experience at industry leaders like Microsoft and Meta, Achi is well-equipped to contribute to Nextech3D.ai's growth and success in the AI technology sector.
Contact Details
Proactive Investors Canada
+1 604-688-8158
na-editorial@proactiveinvestors.com
View source version on newsdirect.com: https://newsdirect.com/news/nextech3d-ai-announces-former-microsoft-and-meta-executive-hareesh-achi-joins-company-146701423