Criminal and Terrorist Organizations Financing their Illicit Empires and Terror Campaigns Globally Through Illicit Trade
NEW DELHI, India - November 5, 2018 - (
Newswire.com
)
David M. Luna, President and CEO, Luna Global Networks & Convergence Strategies, LLC highlighted how illicit trade is a national security threat to India and other countries. "It is important to take this issue seriously and make it as a priority to protect India."
Mr. Luna was speaking on Nov. 2 in New Delhi, India at MASCRADE 2018 (Movement Against Smuggled & Counterfeit Trade), organized by the Committee Against Smuggling and Counterfeiting Activities Destroying the Economy (CASCADE), under the auspices of The Indian Federation of Chambers of Commerce & Industry (FICCI).
Mr. Luna said that one only has to reflect back to 2008 and the terrorist attacks in Mumbai when Lashkar-e-Taiba coordinated a bloody and very violent attack in the city, not only killing and wounding hundreds of people but also bringing great harm to India's security at the time. Reports have illumined that the orchestration of these attacks involved elements of criminality and dirty money in financing such terrorism. As threat multipliers, such illicit and converging threats metastasize and imperil national economic and security interests.
Mr. Luna also underscored that as a "growing and dynamic economy, and a G20 nation, India has much to lose by not elevating the fight against illicit trade, and the webs of related corruption and organized crime."
Before we can develop effective anti-illicit trade responses and approaches, we must first understand the modus operandi of our criminal adversaries.
Convergence Crime: Today, sophisticated criminal entrepreneurs are diversifying their portfolios in trafficking everything from narcotics, people, arms, gold, oil and natural resources, and endangered wildlife to counterfeits including fake water (bottles), medicines, and illicit cigarettes and alcohol products. Through such criminality, "we recognize that bad actors are using criminally-derived proceeds to corrupt police, security, and law enforcement institutions that are responsible for keeping people safe," said Mr. Luna.
Fighting Networks with Networks: Mr. Luna emphasized that a national anti-illicit trade and comprehensive national security strategy, an inter-agency national IPR coordination center, and a national targeting intelligence fusion center to robustly disrupt illicit markets and dismantle bad actors and illicit networks can be decisive, as well as other important law enforcement tools and capabilities including criminal forensics and analytics that can uncover corrupt and illegal trade practices, and that help inform actionable intelligence in India.
"I also believe that making the fight against corruption an integral part of any anti-illicit trade strategy is critically vital. We must break the corruptive influence and economic power of organized crime. Not only does corruption rob communities all across India of their sustainable future, it fuels many of the crimes that we have been discussing this week. One cannot focus solely on the criminal activities alone without examining the centrality that corruption plays in enabling illicit trade."
Mr. Luna thanked FICCI for their support over the years during the period that he had the distinct honor of chairing the OECD Task Force on Countering Illicit Trade and strongly encouraged India to partner with the OECD on a country case study on the harms and impacts of illicit trade to the Indian economy. 
Today, global illicit markets account for several trillion dollars every year including corruption and money laundering, and many experts predict that the value of counterfeit and pirated products alone will double within five years with online sales booming to expand the illegal economy and generating more illicit wealth for criminals and terrorist groups across numerous illicit markets.
Illicit trade is enabling violent trafficking gangs to expand their operations, terrorist groups to finance their attacks against our communities, and even rogue regimes to underwrite their nuclear programs. 
At the conference, speakers referenced an earlier report on illicit trade compiled by FICCI Cascade and KPMG on how terror networks rely on illicit trade to finance their operations and violent attacks.
It is not only Lashker-e-Taiba or D-Company, but other terrorist groups also resort to illicit trade in different parts of the world including Hezbollah, the Taliban, Abu Sayyaf Group, Al-Qaida in the Maghreb (AQIM), Al Shabaab, ISIS, and so many others.
Community Engagement: Mr. Luna also emphasized how a good public awareness campaign should educate citizens on how smuggling and counterfeiting hurts them on a daily basis, has a heavy toll on human life and our societies, and should demonstrate that the magnitude of the illicit economy in India is a more widespread and significant threat than what may presently be perceived. "This is true regarding fakes and counterfeited goods such as illegally mislabeled food stuff, fake medicines, and other toxic consumer goods that are killing tens of thousands of people every year."
In the coming months, Mr. Luna will chair the Anti-Illicit Trade and Brand Protection Summit and Exhibition, Global Trade Development Week (GTDW) Nov. 20-21 in Abu Dhabi, UAE; and the Second Brand Protection Congress, WORLDBI, Dec. 4-5 in Frankfurt, Germany. LGN will participate at the Counterfeiting and Piracy (CAP) Group of the World Customs Organization (WCO) Dec. 6-7 in Brussels, Belgium; and in early 2019, the 7th Meeting of the OECD Task Force on Countering Illicit Trade (TFCIT) in Paris, France.
Mr. Luna is the new chair of the Anti-Illicit Trade (AIT) Committee of the United States Council for International Business (USCIB) and is currently a Senior Fellow for National Security at the Terrorism, Transnational Crime and Corruption Center, Schar School of Policy and Government, George Mason University. He was previously also the President (Chair) of the OECD TFCIT; Chair of the APEC Anti-Corruption and Transparency (ACT) Working Group and APEC U.S. Coordinator for the ACT Pathfinder Initiative on Fighting Corruption and Illicit Trade; and Vice-Chair of the World Economic Forum Global Agenda Council's Illicit Trade and Organized Crime group.
Learn more about Luna Global Networks at https://lunaglobalnetworks.com.
A Strategic Advantage: Luna Global Networks is an international security consultancy, well-positioned to help businesses and NGOs tackle the most pressing illicit trade and governance challenges and related security threats across borders, markets and industries through convergence strategies and tactical plans that target an illicit threat environment more holistically. LGN works on developing net-centric partnerships (a network of networks) that harness collective action through strategic alliances, the designing of pragmatic training to counter illicit trade, leveraging of innovative net-centric capabilities and the harnessing of transformative technologies that help produce greater results and more enduring solutions.
Related Links
Luna Global Networks & Convergence Strategies LLC
FICCI CASCADE
Related Images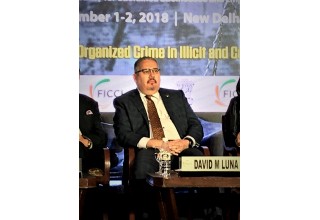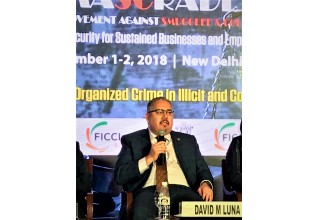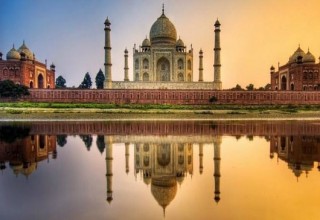 Press Release Service by
Newswire.com
Original Source:
Fighting Illicit Trade and Corruption: National Security Threats to Countries, Destabilizing Impacts to Markets, and Wicked Harms to Consumers