Need Long-Term Corporate Bonds with Rock-Bottom Fees?
July 20, 2021 at 11:52 AM EDT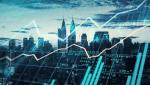 In a fixed income landscape dominated by low yields and pandemic fears, long-term corporate bonds are earning their place at the table with exchange traded funds (ETFs) like the Vanguard Long-Term Corporate Bond Index Fund ETF Shares (VCLT). Exactly which type of investor is best suited for...