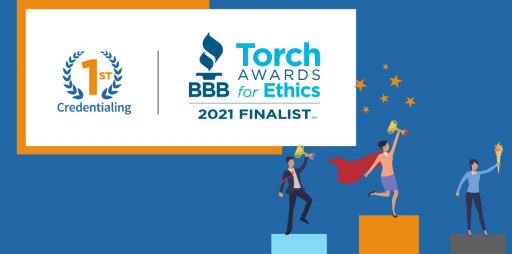 BBB Torch Awards 2021 Finalist - 1st Credentialing
AUSTIN, Texas - October 26, 2021 - (
Newswire.com
)
1st Credentialing has been recognized as a finalist of BBB's 2021 Torch Awards for Ethics competition.
1st Credentialing is proud to announce it was chosen as a finalist among the nearly 100 Texas businesses that applied to receive Better Business Bureau's 2021 Torch Awards for Ethics. BBB serving the Heart of Texas presents the Torch Awards for Ethics each year to businesses that exemplify ethical behavior and display integrity in all aspects of their operations.
1st Credentialing is a leading healthcare credentialing company that focuses on personalized and technology-driven primary source verification and payor enrollment for all insurance networks.
Heidi Henderson, and the entire team at 1st Credentialing, were excited to learn that they had been chosen as a finalist. "We're honored to be acknowledged for our ethical business practices," said Heidi.
On October 7, 2021, BBB serving the Heart of Texas announced via a live, online event that 1st Credentialing was one of three finalists in the 2021 Torch Awards for Ethics. "The community engagement and strength of Texas businesses were on full display for the judges this year," said John Etchieson, former BBB CEO and judge for the 2021 BBB Torch Awards. "Congratulations to all of the finalists and thank you to everyone who applied to make this an extremely competitive event."
The Torch Awards competition is open to all for-profit businesses headquartered in BBB's 105-county service area. Nominees are offered the opportunity to submit an entry to BBB, where a panel of independent volunteer business and community leaders review the entries and choose the winners based on their performance in the marketplace.
If you would like to learn more about 1st Credentialing and how they do business and the services they offer, please visit: 1stCredentialing.com.
Press Release Service by
Newswire.com
Original Source:
1st Credentialing Recognized for Organizational Ethics: Finalist of BBB 2021 Torch Awards for Ethics