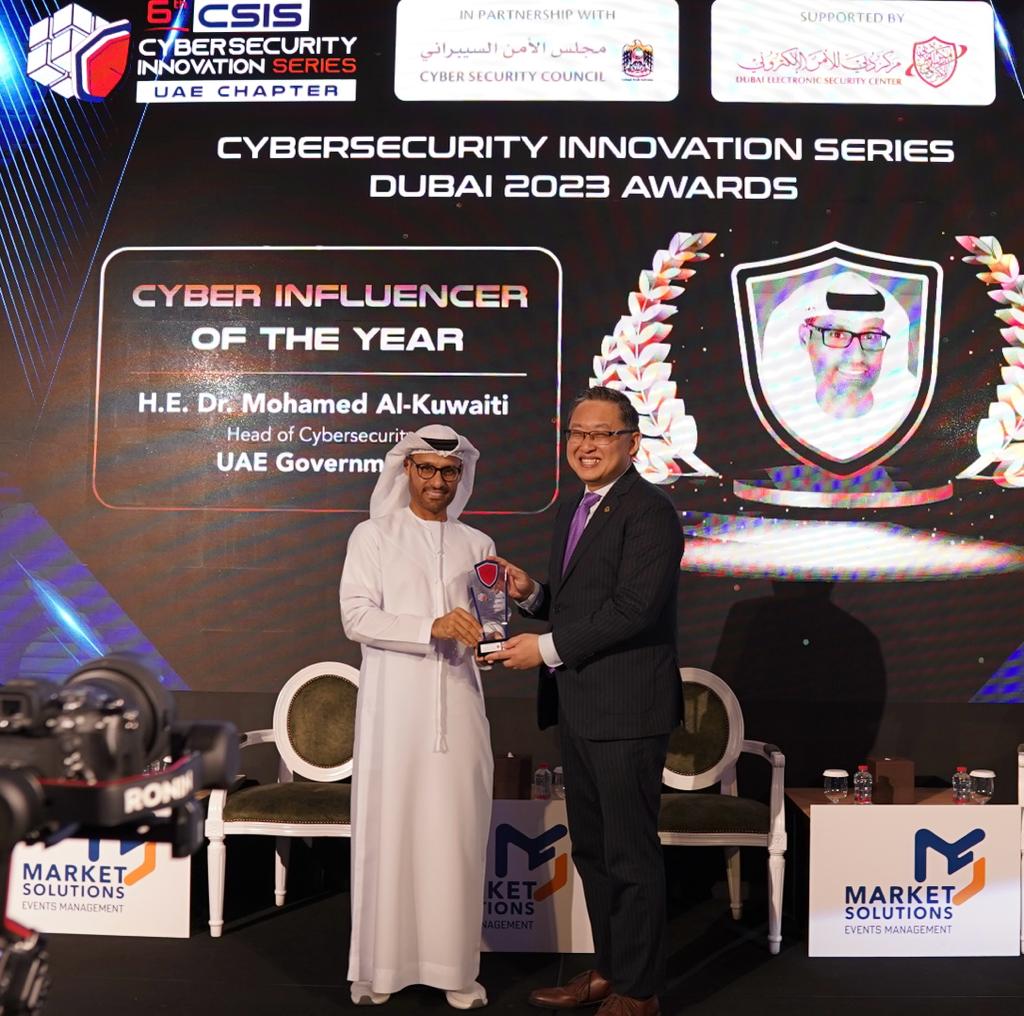 Dubai, UAE, 12th June 2023, ZEX PR WIRE, The 6th Edition of the Cyber Security Innovation Series and Awards took place on 6 – 7 June 2023 at The Meydan Hotel in Dubai. The event was organised by Market Solutions Events Management (MS Events), in partnership with the UAE Cybersecurity Council and with the support of Dubai Electronic Security Centre. This year's theme focused on "Exploring Next-Generation Cybersecurity for the Digital Era".
This event was sponsored by the esteemed lead sponsor Huawei and in partnership with gold sponsor Kaspersky, silver sponsor Tahaluf, and bronze sponsor ManageEngine.
The Cyber Security Innovation Series and Awards gathered all the industry experts, thought leaders, and cybersecurity professionals under one platform to their share insights, exchange best practices, and explore innovative solutions to combat the ever-evolving cyber threats.
The inaugural day of the conference, was held on June 6, commenced with an auspicious opening featuring insightful welcome remarks from Eng. Madiha Salem the CEO of MS Events. The day unfolded with a plethora of captivating sessions, encompassing distinguished VIP keynotes, thought-provoking speeches by industry leaders, enlightening panel discussions, and informative presentations delivered by esteemed experts in the field.
Ayesha Almarzooqi, Permits Section Head, Dubai Electronic Security Center delivered the opening keynote titled: "From policies to certifications to harmonisation".
Biju Hameed, Head of Technology Infrastructure Operations at Dubai Airports, delivered a VIP keynote on best practices for developing a comprehensive security strategy plan, emphasising the importance of consistent strategic planning, innovative practices, and effective communication to stakeholders.
Song Haibin, Chief Security Officer, Huawei Cloud Europe, presented a thought leadership keynote on redefining cloud security governance in the digital era, addressing the challenges on cloud security governance, and introducing 3CS (Cloud Service Cybersecurity & Compliance Standard) as a Unified Compliance tool for overall cloud security governance.
Ahmed Sherif the Senior IT Support Engineer & Cloud Solutions Expert of Abu Dhabi Digital Authority moderated a panel discussion on 'Key strategies for protecting critical resources and ensuring cyber defence in the cloud'. The panellists participating were Adel Alhosani, CISO & Information Security Senior Manager of Dubai Customs; Mohamed Al Maleki, Senior Information Security Specialist at the Federal Tax Authority, and Ashraf Esmat Khalil, Senior Solution Architect at Huawei Middle East and Central Asia.
Mariam Alhammadi the SOC manager from Ministry of Interior shared her insights on 'Building a cybersecurity center of excellence: Effective strategies for developing and scaling effective security teams'
Eng. Eissa Nasser Alhammadi the Section Head Information Security Governance & Compliance of Department of Health delivered an informative session on 'Highlighting the importance of security in the realm of digital healthcare'
The key topic 'Strengthening the defence of critical assets by integrating IT and OT security programs' was addresses by Wazira Bawazir the Head of IT Infrastructure & Security Section of Abu Dhabi Quality and Conformity Council.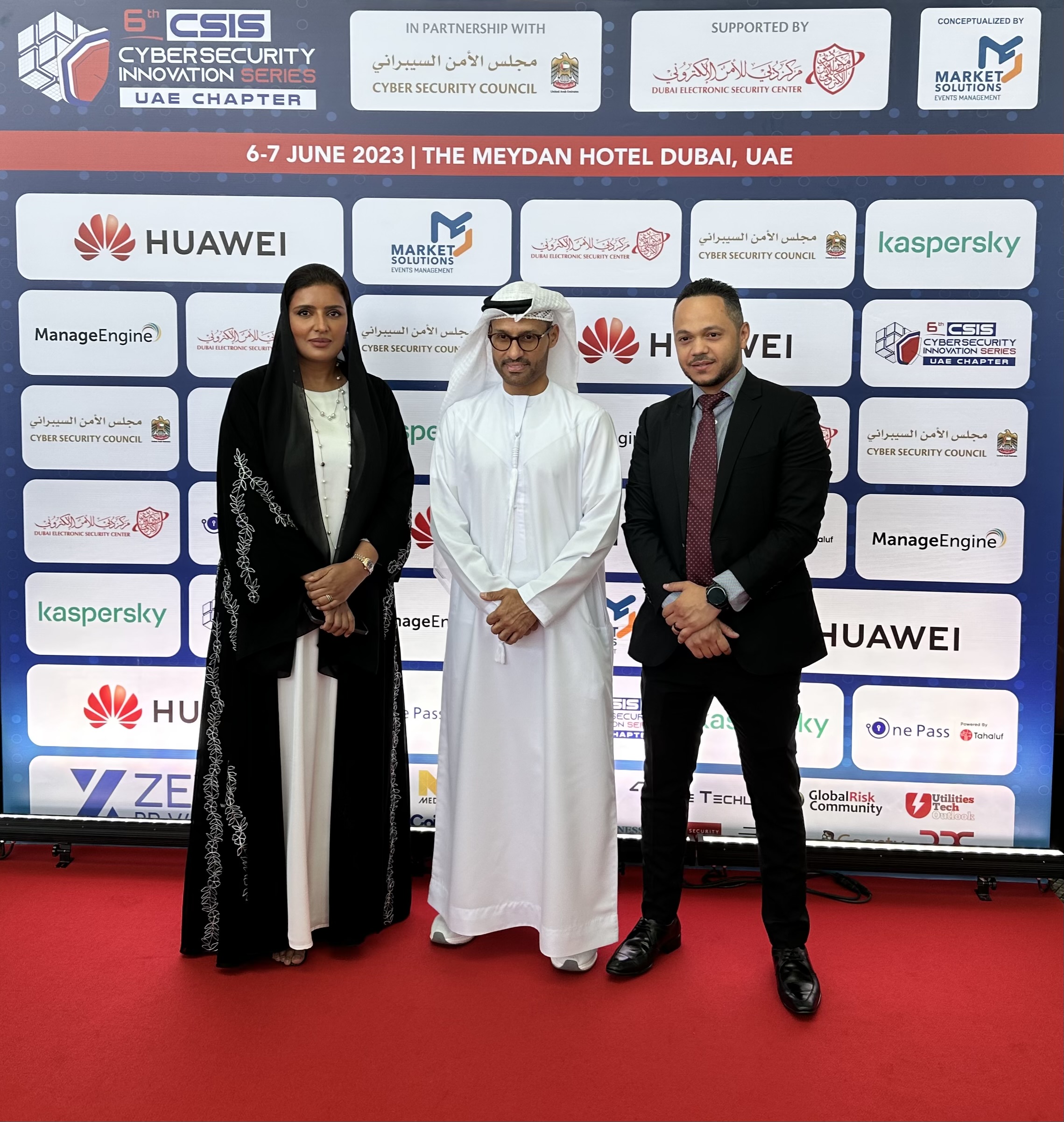 As organizations become increasingly reliant on interconnected digital networks, software and services, vulnerabilities in the supply-chain can have far-reaching consequences. It has become evident from our investigation that third-party attacks are stealthier, agile and remain undetected in comparison to other tactics, posing a grave risk to the functioning of government entities in this region. The radical shift to infiltrate third party companies in the supply chain could be an indication that regional government entities are stepping up their cybersecurity game, driving APT groups to think out of the box and target weaker links to reach their goals." said Maher Yamout, Senior Security Researcher at Kaspersky.
Day 2 we witnessed H.E. Dr. Mohamed Al-Kuwaiti, Head of Cybersecurity, UAE Government share his thoughts on cybersecurity predictions and best practices for 2023-2024, providing valuable insights into the future of cybersecurity in the digital age.
Dr. Mohammed Al Kuwaiti launched the Cloud Security whitepaper which was powered by Huawei and recognized the exceptional leadership and innovation shown by the brightest minds of the cybersecurity community at the Cybersecurity innovation awards ceremony.
Among the esteemed award winners were:
H.E. Dr. Mohamed Al-Kuwaiti, Head of Cybersecurity, UAE Government won the prestigious Cyber Influencer of the Year award.
Huawei won the prestigious Cyber Security Ransomware Technology Leadership award and the Best Cloud Security Technology Partner of the Year award
Adel Alhosani, CISO & Information Security Senior Manager at Dubai Customs, won the prestigious CISO of the Year award at the 6th Edition Cybersecurity Innovation Series & Awards 2023
Faheem Siddiq, Director, Information Security, Majid Al Futtaim won the prestigious Most Innovative Cybersecurity Leader 2023 award
Tushar Vartak, Director IT Risk, Fraud Prevention & Detection, RAKBANK won the prestigious BFSI Cybersecurity Leader of the Year award at the 6th Edition Cybersecurity Innovation Series & Awards 2023!
Dr. Alyosius Cheang, Chief Security Officer Huawei Middle East & Central Asia delivered a thought leadership keynote on the 'Cybersecurity playbook in the digital era' sharing strategic insights and best practices to safeguard the journey to the Cyberverse.
For any inquiries, please contact Pooja Preetham at pooja@msevents.ae or call +971 4 331 1622.
About MS Events
Markets Solutions Events Management (MS Events) is a leading event management company dedicated to organizing high-quality, impactful events across various industries. With a focus on delivering exceptional experiences and fostering meaningful connections, MS Events strives to create platforms that enable professionals to exchange knowledge, explore innovative ideas, and shape the future of their respective fields.