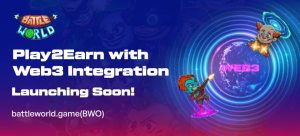 Singapore, 21st July 2023, ZEX PR WIRE, Battle World Game (BWO) is an innovative play-to-earn blockchain game that brings excitement and rewards to players through Web3 integration. Get ready to immerse yourself in epic battles and earn BWO tokens as you conquer the virtual world. This article will explore the mechanics of the game, the token rewards system, and the web version's joystick support. Additionally, it will address the exclusion of Korean users due to strict KYC processes, ensuring a secure and compliant gaming environment. Battle World Game is all set to launch soon, so get ready to embark on an adventure like never before!
Game Mechanics: BWO is a multiplayer battle game where each of the 16 players stakes 10 BWO tokens to enter the virtual arena. This results in a total of 160 BWO tokens pooled at the beginning of each game.
Token Rewards: Throughout gameplay, players have the opportunity to earn BWO tokens through various achievements. For each kill made during battles, players will receive 1 BWO token as a reward. Furthermore, the ranking system offers token rewards based on the following placements:
1st Place: 50 BWO tokens
2nd Place: 35 BWO tokens
3rd Place: 25 BWO tokens
4th Place: 15 BWO tokens
5th Place: 10 BWO tokens
In total, 150 BWO tokens will be distributed as rewards among the players, while 10 BWO tokens will be allocated to the Battle World Game team for each gameplay. This team reward aims to encourage collaboration and community engagement.
Korean User Exclusion and KYC Processes: To ensure compliance with legal regulations and maintain a secure gaming environment, Korean users are excluded from participating in Battle World Gameplay. This exclusion is facilitated through strict Know Your Customer (KYC) processes, safeguarding the integrity of the game for all eligible players.
Joystick Support in Web Version: Battle World Game takes player experience to new heights by offering joystick support in the web version. This feature enhances control and precision during gameplay, providing an enjoyable and immersive gaming experience for all users.
Battle World Game introduces players to the world of play-to-earn gaming with its Web3 integration and rewarding mechanics. As players stake BWO tokens and engage in thrilling battles, they can earn rewards based on their performance. The game's commitment to security and compliance is evident through the exclusion of Korean users, ensuring a transparent and regulated gaming environment. Battle World Game is all set to launch soon, so get ready to embark on this revolutionary play-to-earn blockchain game. For more information and to stay updated on the launch, visit their website: https://battleworld.game/