All-inclusive entertainment platform for Italian-Americans, Hardcore Italians, wins the Friendship Award from the National Italian American Sports Hall of Fame (NIASHOF) in Chicago at the Des Plaines Theatre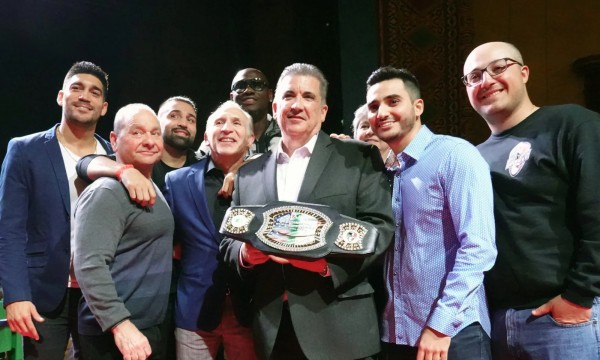 The team at Hardcore Italians, led by Mike Carioscia Jr., a Shopify expert and brand builder, has added another feather to their hat as the entertainment website was recently recognized at the "Night At The Fights," an event hosted by the National Italian American Sports Hall of Fame (NIASHOF) in Chicago. The historic night, which was the first boxing event since the passing of beloved George Randazzo, was well attended by notable names in the boxing and entertainment world and was an amazing avenue for Hardcore Italians to showcase their efforts toward supporting the Italian-American community to the world.
"We looked around for a recipient who is out there, time and time again, supporting our heritage, supporting our culture, and representing what we're all about," said Ron Onesti, "We couldn't think of a better organization [than Hardcore Italians].
The event reiterated the commitment of Ron Onesti, the new President of the National Italian Sports Hall of Fame, to keep the tradition going, even as he continues to do amazingly well to keep the Italian-American community in Chicago together. The night featured the likes of Ray "Boom Boom" Mancini, Antonio Tarver, Paul "Paulie" Malgnaggi, and the Jersey Girls as special guests. It began with a tribute to George Randazzo, with the Jersey Girls singing the National Anthems for both Italy and America. Attendees were also treated to live music, delicious food, and great drinks, as well as captivating fights that had the crowd cheering and applauding as well as the old school paisans placing bets with one another.
Hardcore Italians received the Friendship Award presented on behalf of the NIASHOF for friends to the Italian community. It was also a platform to reach out to fans of the website, with Hardcore selling some shirts, including a limited edition Boom Boom Mancini tee, also available on the Hardcore Italians store.
For further information about Hardcore Italians and the initiatives from the award-winning Italian-American entertainment website, visit - https://hardcoreitalians.blog/. Hardcore Italians also has a growing online community across socials, including Instagram, Facebook, and YouTube.
Media Contact
Company Name: Hardcore Italians
Contact Person: Mike Carioscia
Email: Send Email
City: Chicago
State: Illinois
Country: United States
Website: www.hardcoreitalians.com