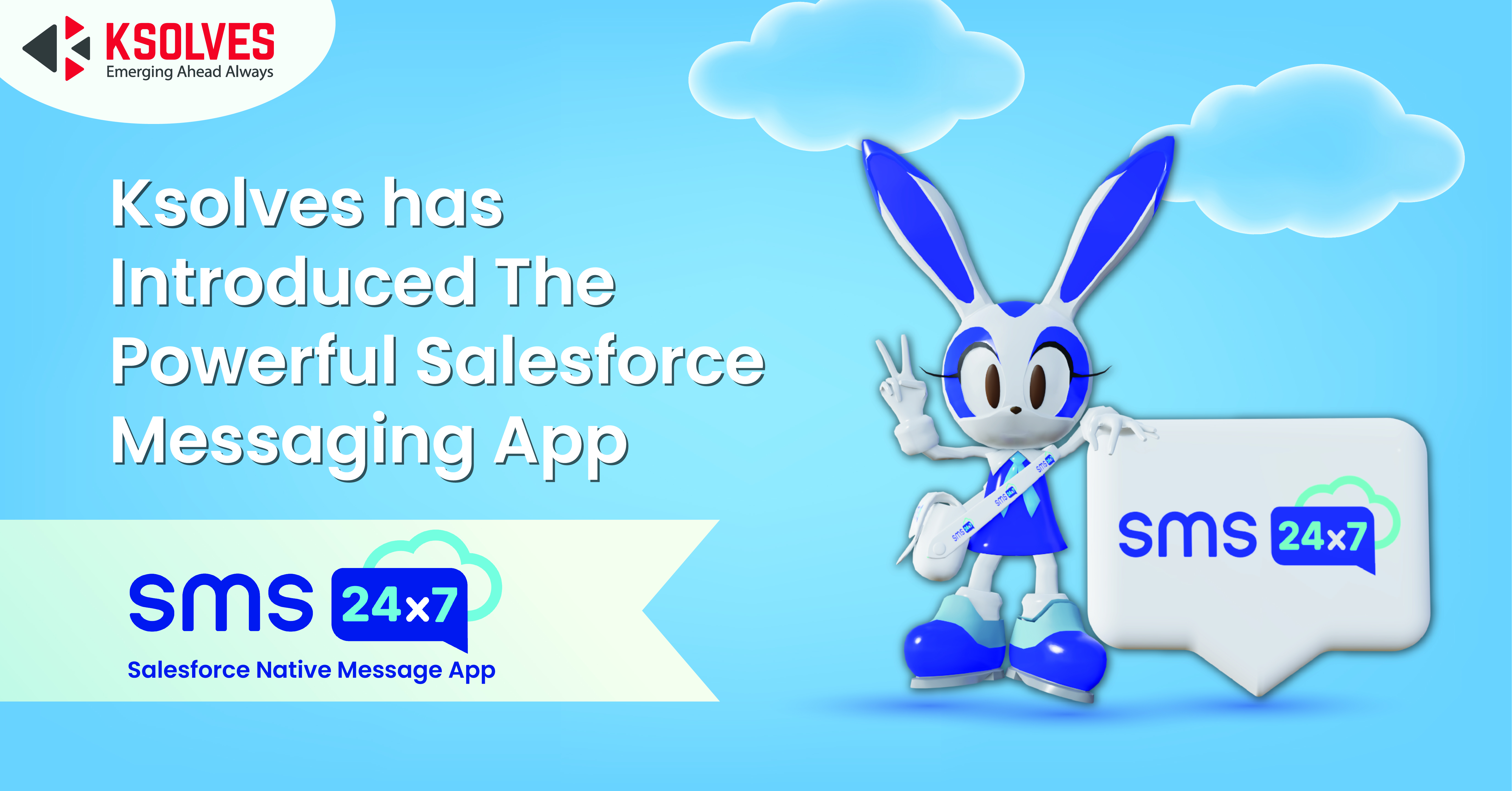 India - Ksolves India Limited, a leading Salesforce Crest consulting partner, has recently launched an innovative app on the Salesforce AppExchange called SMS 24x7 Salesforce Messaging App. This new application provides businesses with an efficient and streamlined way to communicate with customers directly from Salesforce, offering outstanding support services and ease of use.
With the SMS 24x7 Salesforce Messaging App, businesses can now enhance their communication strategy and improve customer engagement like never before. This app allows users to send and receive SMS, MMS, and WhatsApp messages directly from Salesforce, enabling a more productive and engaging communication experience. To ensure customer satisfaction, Ksolves offers a free trial of the app for up to 30 days, a lifetime no-question immediate refund, and 24x7 support services.
Equipped with exceptional features, SMS 24x7 is a smart Native Messaging App for Salesforce that seamlessly integrates with existing workflows and processes. Its automation capabilities enable automatic message delivery, increasing efficiency and saving time. The app also includes a zero-code chatbot with an intuitive user interface, ensuring quick message sending and receiving for a seamless customer experience.
One of the key features of the SMS 24x7 Salesforce Messaging App is its ability to send both one-to-one and bulk messaging directly from Sales/Service cloud layouts, standard list views, campaigns, and reports. The app prioritizes data protection with its privacy-first approach, ensuring that clients' data is 100% secure. Unlike other messaging vendors, SMS 24x7 does not use its own servers, guaranteeing complete data security and ownership.
Moreover, the SMS 24x7 app offers competitive pricing, allowing businesses to enjoy top-notch communication features without straining their budget. Its affordability sets it apart from the competition, providing businesses with cost-effective communication management.
Key USPs of the SMS 24x7 Salesforce Messaging App include 100% data privacy and security, a lifetime no-question immediate refund policy, a 30-day free trial, 24x7 support service, one-hour setup, and no hidden charges. These standout features ensure that customers receive exceptional value and a seamless experience.
For businesses looking for advanced features, ease of use, and budget-friendly pricing, the SMS 24x7 Salesforce Messaging App is the ideal solution to elevate their communication capabilities. To experience a free demo, interested individuals can visit https://sms24into7.com.
To enjoy the numerous benefits of SMS 24X7 Salesforce Messaging App powered by Ksolves India Limited, click the link to download the app via the following link  https://sforce.co/438pj74.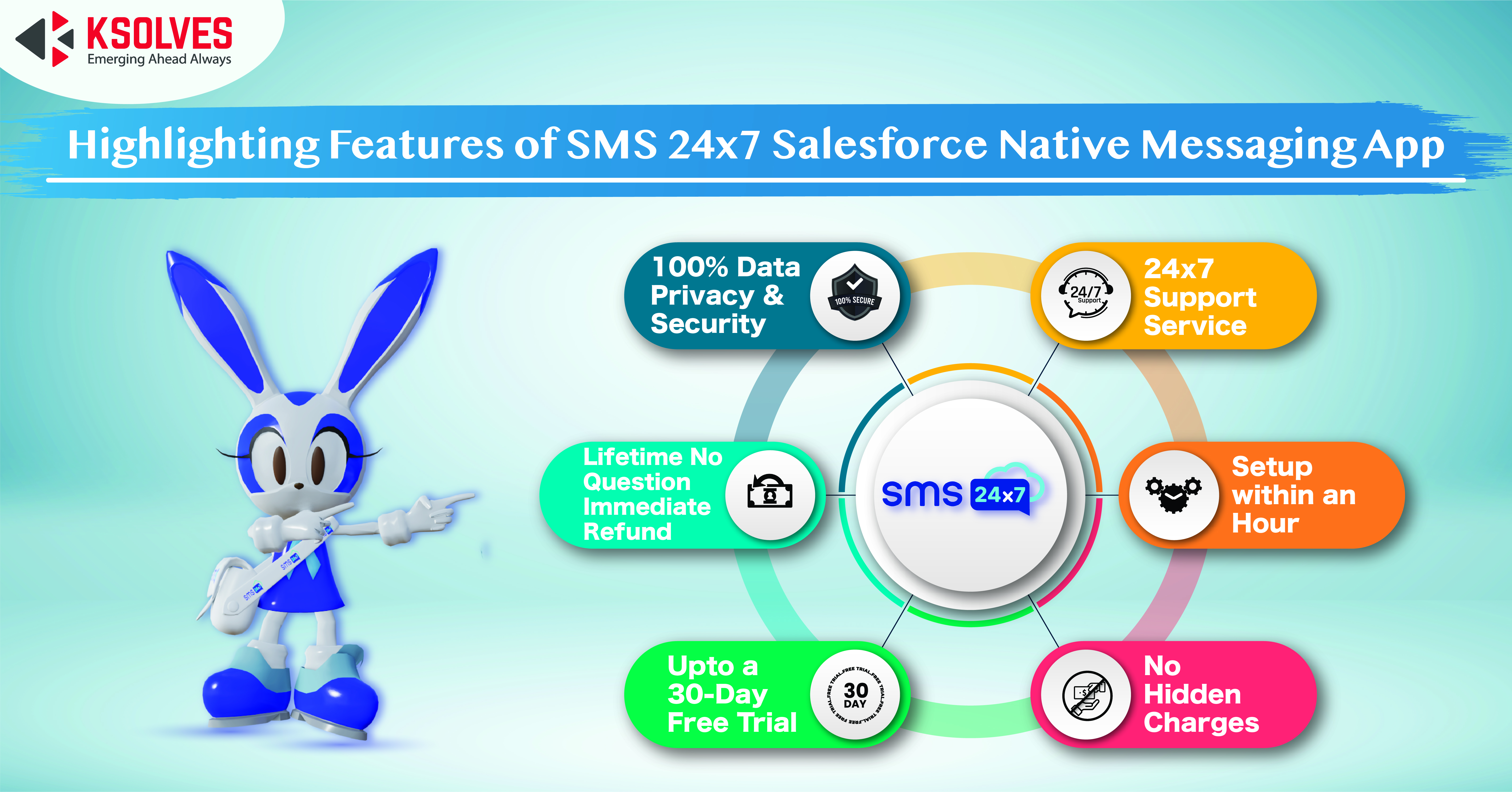 About Ksolves
Ksolves India Limited is a prominent and rapidly growing software development company with over 11 years of excellence in the industry. As a publicly-traded company on India's largest Stock Exchange, National Stock Exchange (NSE), and Asia's Oldest Stock Exchange, the Bombay Stock Exchange (BSE), Ksolves is recognized for its credibility and expertise. The company is also a trusted Salesforce Crest Partner, backed by a professional team of 100+ certified Salesforce experts holding 200+ certifications. Ksolves offers a complete range of Salesforce solutions, including consultation, custom application development, migration, integration, and support. Committed to delivering high-quality solutions and excellent customer service, Ksolves helps businesses succeed in the digital age and achieve their goals.
For media inquiries or further information, please contact:
Media Contact
Company Name: Ksolves India Limited
Contact Person: Kirti Sharma
Email: Send Email
Phone: +91 896 266 9996
Country: India
Website: https://www.ksolves.com/