The Top Real Estate Agent in Coconut Grove, Ashley Cusack, points to data in the recent Berkshire Hathaway Home Services EWM Realty Facts and Trends Report, published in October 2021. There has been a 73.3% decline of luxury condo listings in the market since 2020.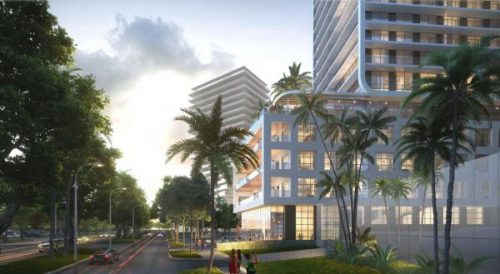 Coral Gables, United States - December 2, 2021 /NewsNetwork/ —
Top Miami, Coral Gables and Coconut Grove luxury home and condo realtor, Ashley Cusack, published her views on the timing for sales of condos in the Southern Florida market.
For more information about Ashley Cusack Team view: https://ashleycusack.com/
Cusack and her team are highly experienced real estate professionals who represent both sellers and buyers of luxury homes and condos in Coral Gables, Coconut Grove, Miami Beach, Gables Estates, Pinecrest, South Miami and Ponce Davis.
"If you own a luxury condo in Coconut Grove, which I am defining as a condominium unit that will sell for $1,000,000 or more, there are a number of reasons why now is the time to sell," said Ashley Cusack.
According to the data incorporated in the Berkshire Hathaway Home Services EWM Realty Facts and Trends Report, published in October 2021, there are significant shortages of listings in this market. In fact, in September 2021 there were only 8 units for sale in Coconut Grove, which is a stark contrast to the 30 units that were available in the same month of 2020, a 73.3% decline.
"Because overseas visitors are once again able to come to the U.S. and, more specifically, to Southern Florida, I also think that we will see a large uptick in foreign real estate investment. This can only add to the problem with lack of available condo inventory," added Cusack.
Historically, people from Latin America have purchased property throughout Miami-Dade County and beyond. With the pandemic, that investment had dried up — people were not going to purchase vacation homes that they could not use for the foreseeable future.
Now that fully-vaccinated Brazilians, for example, are able to visit the US again it is expected that they will begin buying property again, especially in Southern Florida.
The Facts and Trends report shows that the price per square foot of closed sales was down from May to September, 2021. Cusack's research found that the closings in September were mainly in older buildings and complexes, such as L'Hermitage and Yacht Harbour. Those are both great places to live, but they sell at lower prices than the new buildings that line South Bayshore in Coconut Grove.
It was those new buildings that sold back in May, one in the Grove at Grand Bay, and another in Park Grove. Those newly-developed properties demanded a higher price per square foot, and when more of the new units sell, the average price per square foot numbers will climb again.
All these factors point toward a strong seller's market, so home and condo owners in Coral Gables, Coconut Grove, Miami Beach, Palmetto Bay, Pinecrest, or any other South Florida locations should consider contacting Ashley Cusack Team to discuss the possibility of listing their home.
To see the full Ashley Cusack article, go to: Time to Sell Condos in Coconut Grove
Ashley Cusack was recently featured in the Florida edition of Top Agent Magazine, as described in the news article which can be viewed here.
Cusack has sold over $1 billion in residential real estate sales in her almost 30-year career with a business that is almost all sourced from repeat referrals. The Ashley Cusack Team has sold over $90 Million in real estate in the Miami area in the first half of 2021 alone.
They have consistently been in the top ½ of 1 percent of Realtors nationwide, and in the top 5 of 800 agents at Berkshire Hathaway HomeServices EWM Realty – an accomplishment spanning the past 15 years. Cusack has also been recognized as the area's top residential Realtor by the Miami-Dade Chamber of Commerce, Miami Agent Magazine and The Real Deal.
Contact Info:
Name: Amy Marrs Steinhour
Email: Send Email
Organization: ASHLEY CUSACK TEAM, REALTOR®
Address: 550 South Dixie Highway, Coral Gables, FL 33146, United States
Phone: +1-305-798-8685
Website: https://ashleycusack.com
Source: NewsNetwork
Release ID: 89055274