Flora Growth (FLGC) entered a new partnership recently to grow its presence in Europe. Moreover, as the European Union moves toward de-scheduling narcotics, is this the right time to scoop up FLGC shares? Read on...
Flora Growth Corp (FLGC) recently partnered with TruHC Pharma GmbH, a medical cannabis expert based in Hamburg, Germany, aiming to grow its presence in Europe. As Germany and the European Union move towards de-scheduling narcotics, this partnership is expected to strengthen FLGC's competitive standing and future prospects.
Turning attention towards its financial performance, FLGC showcased a commendable revenue expansion in the last reported quarter. However, profitability continues to elude the firm as the net loss stood at a substantial $44.6 million for the quarter ended in June 2023.
With an ongoing emphasis on cost-cutting measures and optimizing resources, FLGC posits this period as a rebuilding phase in its strategic plan. Yet, these efforts' efficacy and future contribution to bottom-line improvements remain to be seen. Street analysts expect its EPS to remain negative this year.
In light of escalating competition within the sector, it may be advisable to steer clear of this stock for now—a comprehensive review of vital metrics shades further importance to a cautious approach.
Analyzing FLGC's Financial Performance: A Trend Analysis from 2020 to 2023
The trend and fluctuations in the trailing-12-month net income of FLGC suggest a consistent decline over time. Here are some significant highlights from the data:
On December 31, 2020, FLGC recorded a net income of -$14.33 million.
By the end of 2021, there was a significant drop in net income, with a total value of -$21.36 million, reflecting a larger loss than the previous year.
The first half of 2022 saw a steep decline in net income, which stood at -$48.94 million.
The situation did not improve by the end of 2022, as the company reported its net income to be -$52.63 million.
As of the most recent data point on June 30, 2023, the net income has further deteriorated to -$68.37 million.
Overall, the growth rate from the first value to the last suggests a significant increase in the losses. From -$14.33 million in December 2020 to -$68.37 million in June 2023, this denotes a substantial decline for FLGC in the reporting period.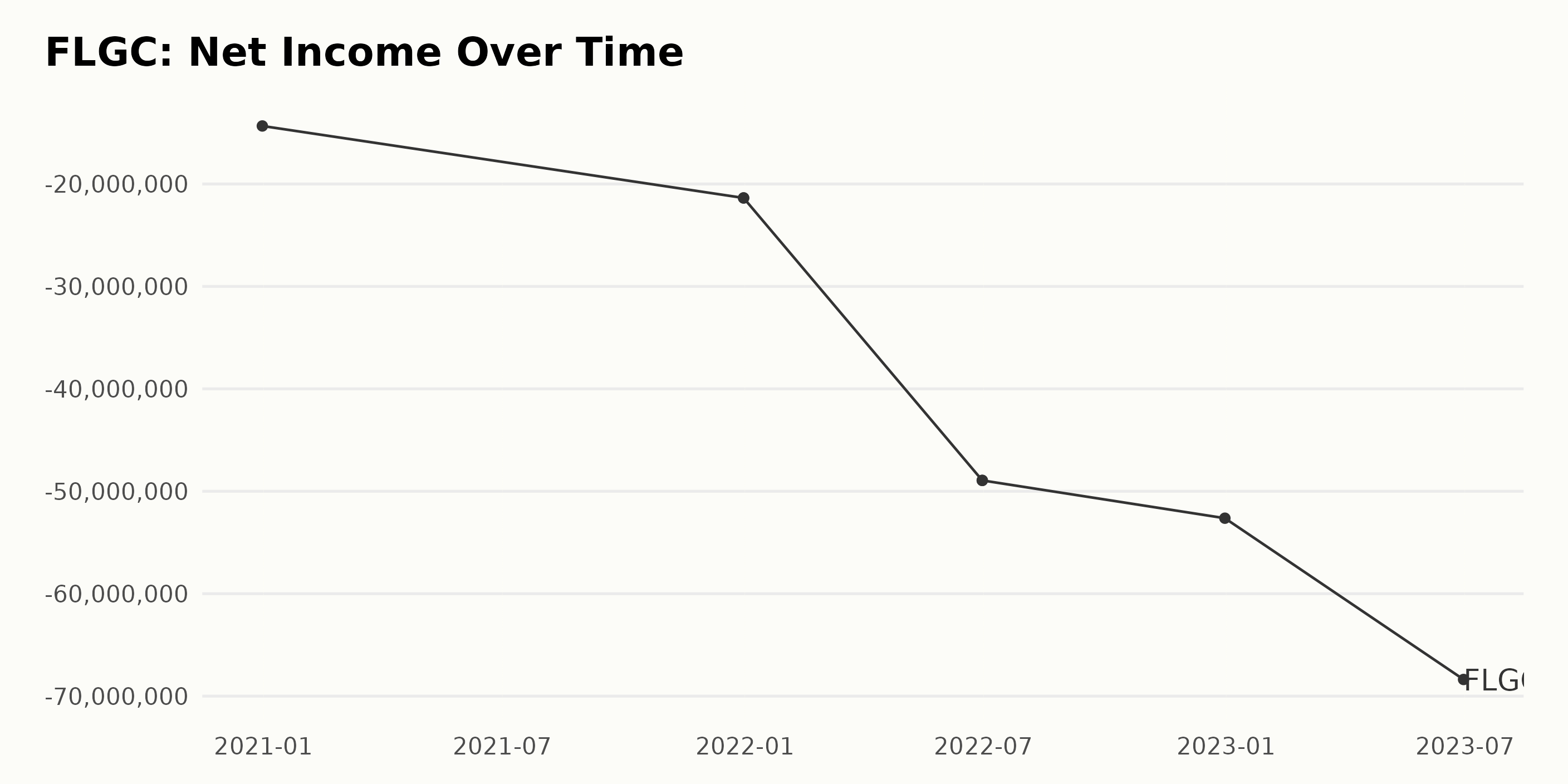 The Gross Margin of FLGC has seen a varied trend with noticeable fluctuations between 2020 to 2023. Below is a summary of this data:
December 31, 2020: The gross margin is at 67%.
December 31, 2021: There is a significant drop in gross margin to 27%, demonstrating a major dip in the company's performance.
June 30, 2022: A recovery is seen midway through 2022 as the gross margin increases to 36.5%.
December 31, 2022: Further progress is evident by the end of 2022, with the gross margin rounding off at 38.8%.
June 30, 2023: Surprisingly, there is another decline in gross margin to 27.1%. The most recent values from 2022 reveal an improvement in gross margin as it rises from 27% in 2021 to 38.8% before facing a subsequent decrease in mid-2023.
From the given data and calculated growth rate, the gross margin of FLGC drops from its initial value of 67% to 27.1% by June 2023, indicating an overall negative trajectory. Please note that these values and trends are based on the data provided and should be validated using updated financial statements.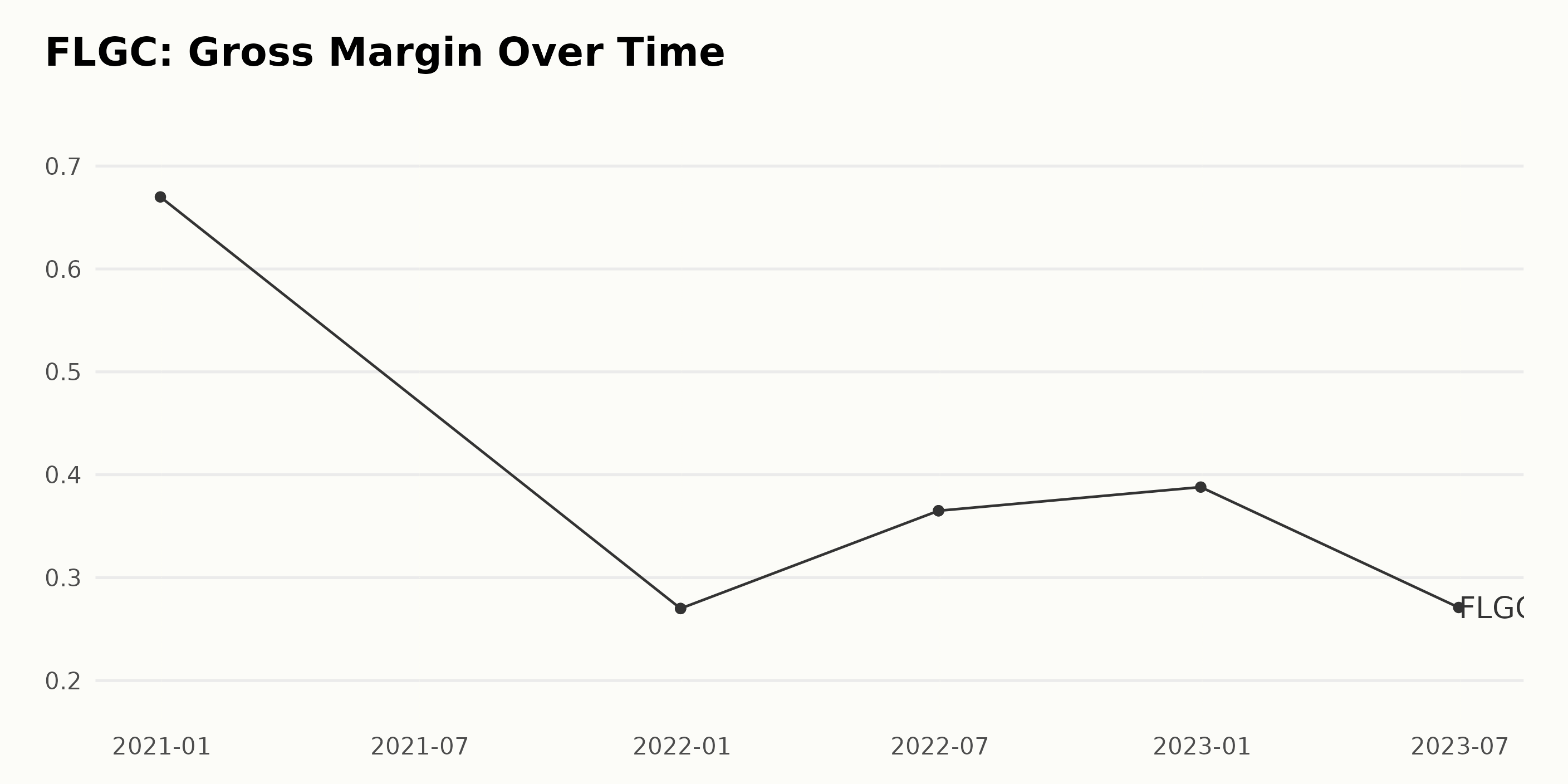 The Return on Assets (ROA) trend for FLGC, has shown notable fluctuations in the recent years:
Starting at a ROA of -0.41 on December 31, 2021.
The reported ROA demonstrated a significant decline, recording a value of -0.89 on June 30, 2022.
By the end of 2022 (December 31), the ROA rebounded slightly to -0.63.
However, the last recorded value in the series is -1.04 on June 30, 2023, which indicates the lowest value in the series and hence a downward trend.
The growth (decline, in this case) rate during this period from December 31, 2021, to June 30, 2023, was calculated as approximately 155%, indicating a larger negative growth in the reported ROA over time. The emphasis on more recent data suggests a continuing trend of declining ROA for FLGC, with a significant drop in the first half of 2023. Observing if this key financial performance metric shows any signs of improvement moving forward will be interesting.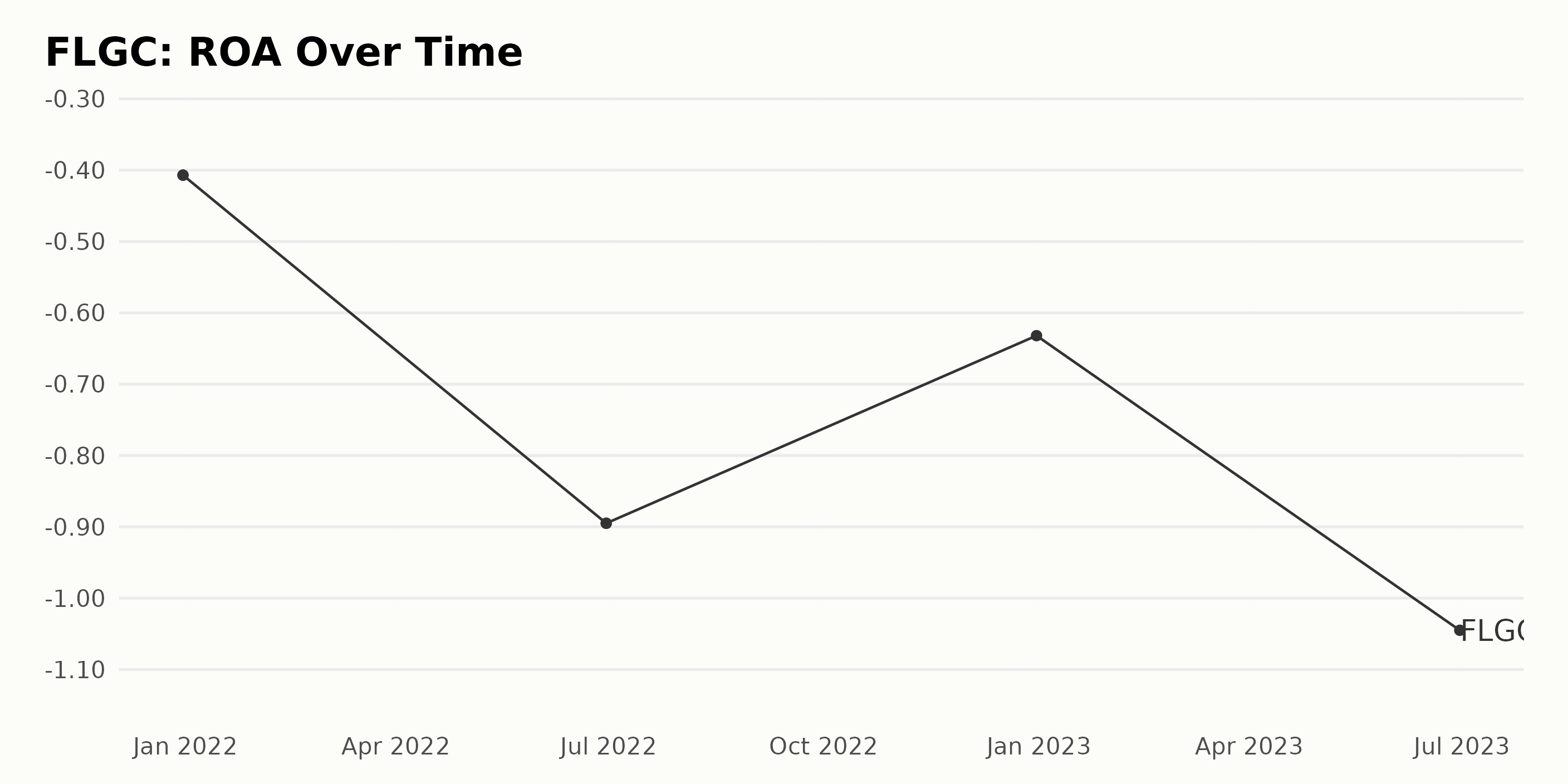 The Current Ratio of FLGC indicates substantial fluctuations over the provided timeline.
On December 31, 2020, the current ratio was 6.43.
By June 30, 2021, it decreased to 4.11, marking a notable decrease in liquidity.
The ratio saw an upward spike to 7.83 on December 31, 2021.
However, in 2022, the current ratio experienced a significant downtrend, falling to 3.18 by June 30. By the end of the year (December 31, 2022), it plummeted further to 1.79.
In the first quarter of 2023 (March 31), it slightly increased to 1.80, but by the end of the second quarter (June 30, 2023), it slumped to 1.25, the lowest point in the examined period.
Emphasizing more recent data, it seems that FLGC's current ratio has been facing a steady decline since the end of 2021. Comparing the first value (6.43 on December 31, 2020) to the last (1.25 on June 30, 2023), you can calculate a growth rate of -80.58%. This significant decrease in the current ratio potentially points to deteriorating liquidity and short-term debt-paying ability of FLGC.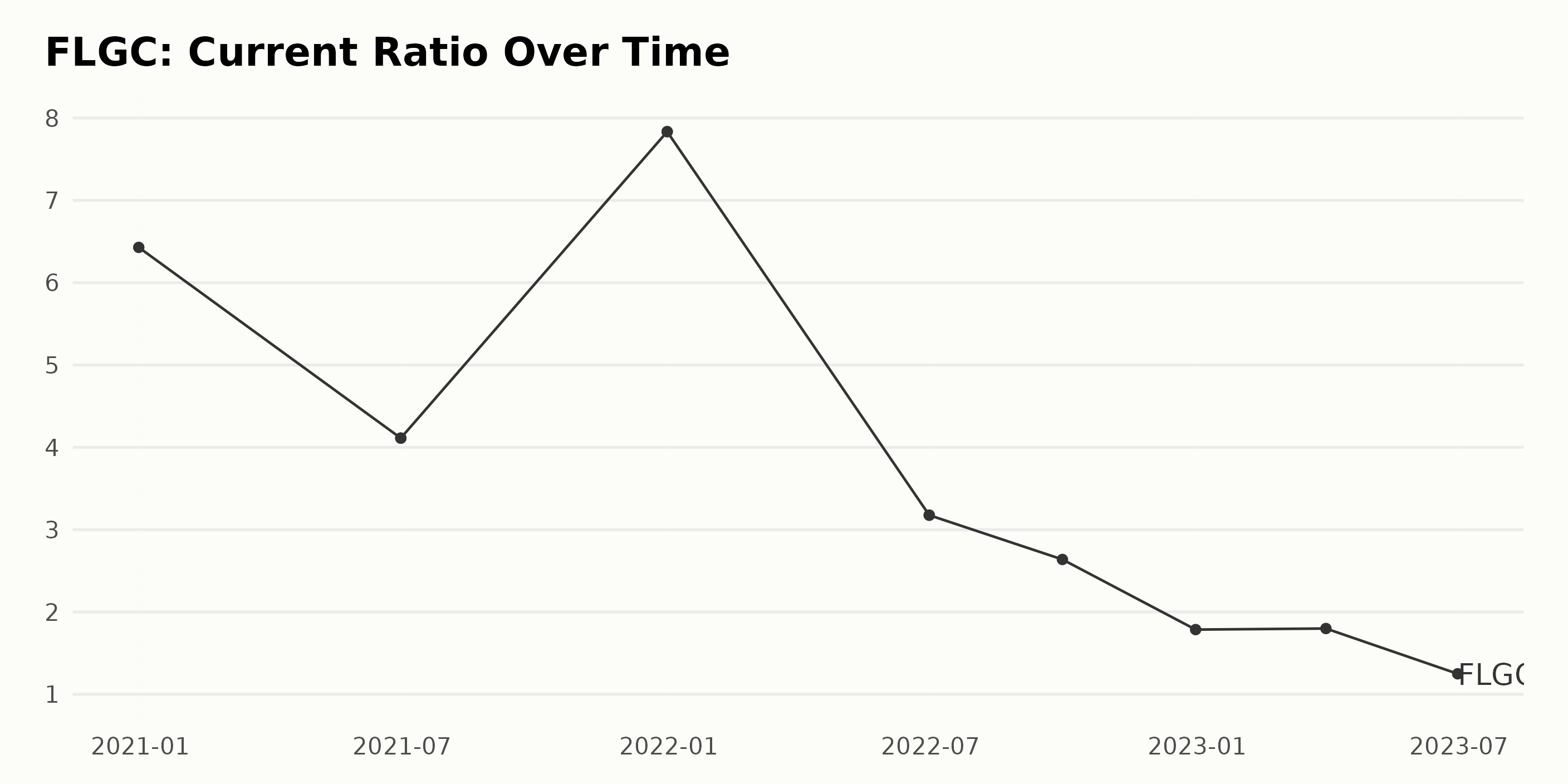 FLGC's Share Price: A Rollercoaster Ride from Sharp Decline to Rapid Recovery
Examining the given data about FLGC's share price from March to September 2023, a general decreasing trend can be observed. However, there is a noticeable increase in September:
The share price starts at $6.65 on March 17, 2023, and generally decreases over the next several months. There are a few weeks where it experiences a slight recovery, but overall, the trend is downward.
By June 30, 2023, the price had decreased significantly to $2.65, which is nearly a 60% drop over the course of approximately 3.5 months.
In July and August, the prices continue to fluctuate between $2.4 and $2.80 with no clear increasing or decreasing trend.
Starting from late August, a rapid recovery can be noted. The share price increased from $2.14 on August 25, 2023 to $3.99 on September 6, 2023.
To conclude, FLGC experienced a consistent price decrease for a period of time, followed by a period of stability and then a quick rebound at the end of the data series. While it's difficult to determine the exact growth rate over this period due to the fluctuations in the data, the trend shows a deceleration in the price decrease around late June and, after that, an acceleration in the price increase at the beginning of September. Here is a chart of FLGC's price over the past 180 days.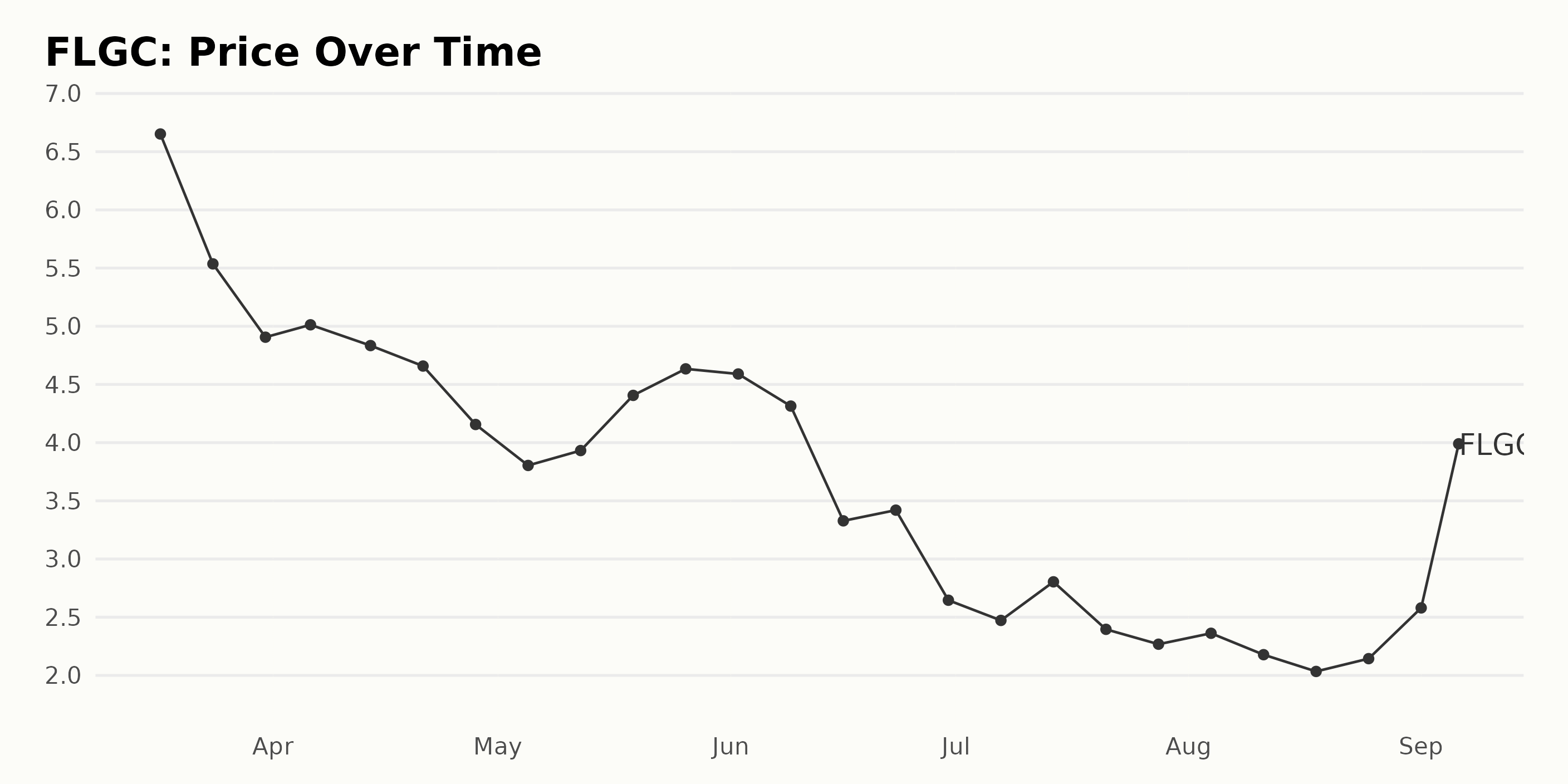 Analyzing FLGC's POWR Ratings: Evolution of Sentiment, Value, and Quality
FLGC has an overall D rating, translating to a Sell in our POWR Ratings system. It is ranked #18 out of the 27 stocks in the Agriculture category.
The POWR Grade of FLGC in the Agriculture category of stocks has seen some changes over the past weeks.
Here's a summary of its recent performance:
On June 17, 2023, it had a POWR grade of D and was ranked 18.
On June 24 and July 1, 2023, it improved slightly to a POWR grade of C, climbing to a superior rank of 17 in the category.
However, on July 8, 2023, it decreased to a D again and remained at rank 17.
Throughout mid to late July, its POWR grade fluctuated between C and D. The rank improved to 16, then slipped back to 18.
Similar fluctuations continued through August, where it opened at a D on August 5, improved to a C by August 19, and maintained this grade up until August 26, 2023. Its rank in the category remained at 16 when the grade was C and 18 when it dropped to D.
As of the latest data available on September 6, 2023, the POWR grade stands at D, and its rank in the category is 18.
Overall, FLGC's POWR grade has been alternating between C and D, and its rank in the Agriculture category has similarly varied slightly, with lower rank values indicating better placement.
The three most noteworthy dimensions for the POWR Ratings for FLGC are Sentiment, Value, and Quality from June 17, 2023 to September 6, 2023.
Sentiment seems to be the dimension with the highest ratings for FLGC. On June 17, 2023, the Sentiment dimension had a value of 90. The highest value recorded was on July 22, 2023, boasting a score of 99. However, towards September 2023, there appears to be a significant drop. By September 6, 2023, the sentiment dimension rating had plummeted to 21. This shows a clear declining trend in the sentiment rating over time.
Value is the second most noteworthy dimension. Initially, at 22 on June 17, 2023, this dimension saw a slight increase through the months, hitting its peak of 65 on August 19, 2023. However, just like the sentiment dimension, the value rating also experienced a dip, finally ending at 50 by September 6, 2023. This does not show any prominent trend but keeps fluctuating during this period.
Lastly, Quality, which began at a value of 28 on June 17, 2023, remained fairly unchanged till July 22, 2023. Post which, the quality score started increasing, peaking at 37 on August 19, 2023. From August to September 2023, the quality score was steady around the mid-30s, suggesting a stable trend throughout the period.
These observations provide an insight into the trends and notable changes in the various dimensions of FLGC's POWR Ratings over the span of nearly three months.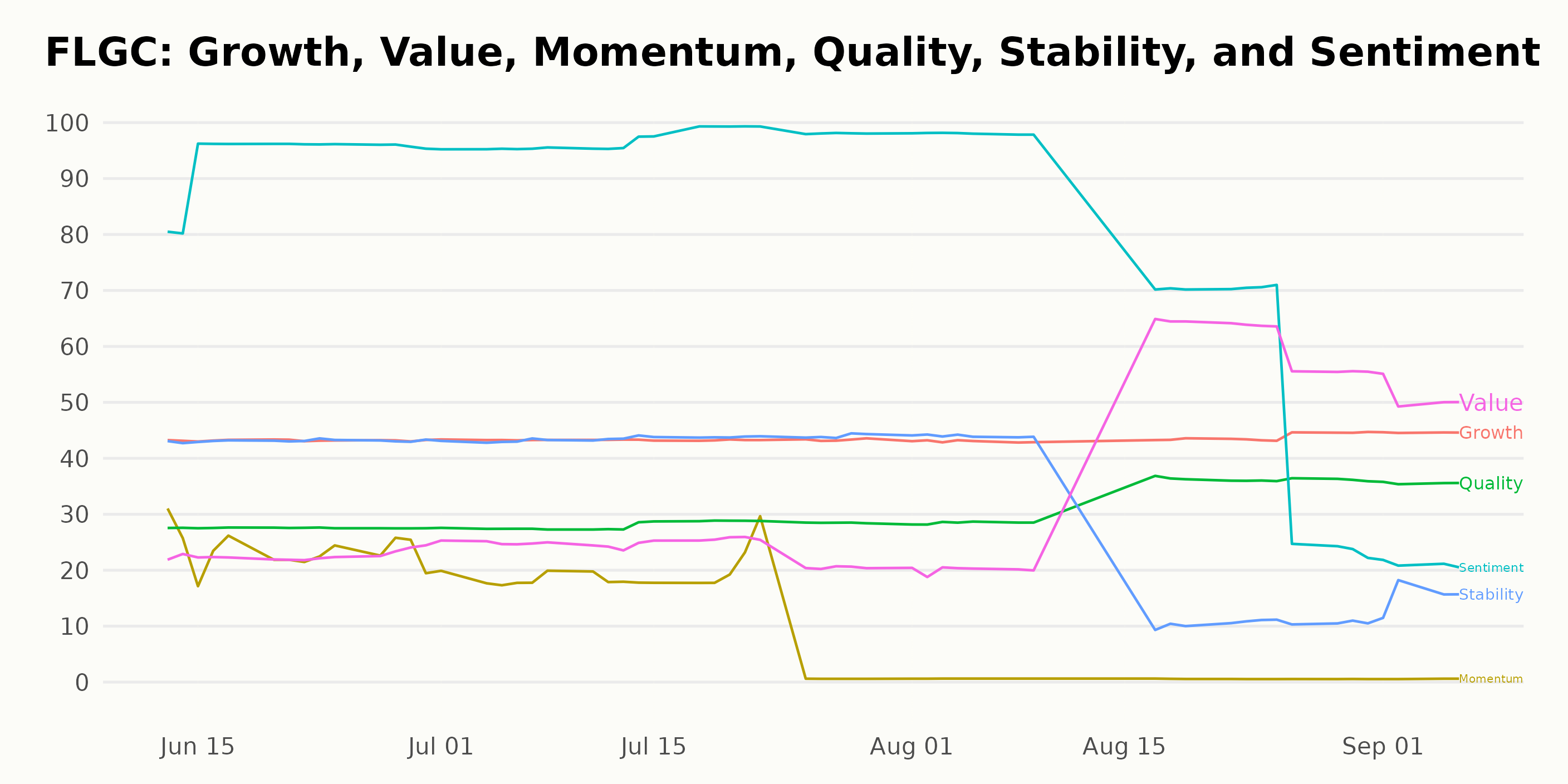 Stocks to Consider Instead of Flora Growth Corp (FLGC)
Other stocks in the Agriculture sector that may be worth considering are MariMed Inc. (MRMD), AGCO Corporation (AGCO), and Golden Agri-Resources Ltd (GARPY) -- they have better POWR Ratings.
What To Do Next?
Get your hands on this special report with 3 low priced companies with tremendous upside potential even in today's volatile markets:
3 Stocks to DOUBLE This Year >
---
FLGC shares were trading at $3.61 per share on Thursday morning, down $0.21 (-5.50%). Year-to-date, FLGC has declined -20.69%, versus a 16.99% rise in the benchmark S&P 500 index during the same period.
---
About the Author: Subhasree Kar
Subhasree's keen interest in financial instruments led her to pursue a career as an investment analyst. After earning a Master's degree in Economics, she gained knowledge of equity research and portfolio management at Finlatics.
Is Flora Growth (FLGC) a Good Agriculture Stock Buy Right Now?
appeared first on
StockNews.com